Euan Craig's schoolboy killer detained for three years and six months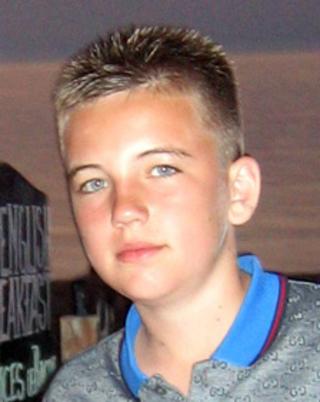 A 15-year-old who killed a schoolboy has been detained for three years and six months.
Euan Craig died from his injuries after being punched in the head during an attack in the gym hall of his school in Glasgow's Crookston area in May.
His killer, who cannot be named for legal reasons, pleaded guilty to culpable homicide last month.
The judge, Lord Bracadale, said he had to impose a custodial sentence because of the severity of the assault.
"There is no sentence that can be imposed upon you today which can bring back Euan or can compensate the Craig family for their loss," he told the killer at the High Court in Edinburgh.
"You were 14 years of age when you committed this culpable homicide.
"I have come to the view that the sustained nature of the assault, the circumstances in which it was committed and the devastating consequences which flowed from it combine to indicate that, despite your age, the only appropriate disposal is a custodial one."
The victim's family wept in court as sentence was passed
Euan, who was also 14 at the time, was attacked at Rosshall Academy on 23 May and died the following day from serious head injuries.
Previously, the High Court in Glasgow heard that he had been attending a PE class on the morning of the attack.
Punched five times
While waiting for the teacher to arrive, Euan and his friends began playing with a sponge ball. It struck the accused on his face as he entered the gym.
The accused yelled and swore at Euan, who was punched five times to the side of his head and, during the attack, he continued to apologise.
Minutes after the attack, Euan slumped to the ground. A post-mortem examination found he died from bleeding in the brain.
Lord Bracadale said Euan came from a close-knit family and he was "clearly the apple of the eye of his father and mother".
"He had every expectation of finishing school, going on to higher education and graduating on to a worthwhile career," he said.
"It is clear that his untimely death has had a profound effect on his family, who are going to live with this immeasurable loss."
Defence counsel Ian Duguid QC had previously told the court that his client was a quiet boy of good behaviour and had shown "huge remorse".
He said the authors of a psychiatric report feared that the teenager's mental health would suffer if he were sent into custody.
"There is no direct benefit to the public of placing him in custody," he argued.
"There would be a risk to his on going psychological development. It will impact negatively on him.
"These are consequences which are extraordinary. It comes from an event which might have passed off as just another school fight.
"It may never have been brought to court if it were not for the tragic injury which was occasioned to him."