Barry McGrory guilty of murdering soldier Paul McGee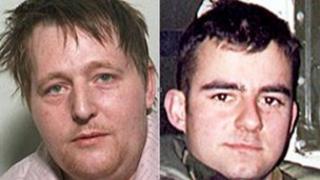 A man has been convicted for a second time of murdering a decorated soldier in Renfrewshire.
Barry McGrory, 31, fatally stabbed 28-year-old Scots Guardsman Paul McGee outside his family home in Lochwinnoch, Renfrewshire, in October 2009.
McGrory had originally been convicted two years ago but appeal judges later quashed the verdict.
At the High Court in Glasgow, McGrory was jailed for a minimum of 20 years - the same jail-term he got in 2010.
McGrory was jailed for life after his first conviction but this was subsequently quashed on appeal.
Queen's Commendation
One of the points raised by his lawyers was that a juror had been wearing a Help for Heroes wristband.
The retrial heard that Mr McGee was awarded the Queen's Commendation for Bravery in July 2008 after risking his life trying to save a fellow soldier while on a tour of duty in Iraq.
Guardsman McGee had been working in an army recruiting office in Scotland at the time of the fatal attack on 25 October 2009.
The court was told Mr McGee and his girlfriend Helen Laycock had been returning home in a taxi from a charity night out with their mothers when the events which led to his murder unfolded.
Taxi driver John Banach spotted McGrory driving slowly with his fog lights on and flashed before overtaking.
The court was told that this enraged McGrory and his passenger Ian Wallace, who chased after the taxi.
Wallace jumped out in McConnell Road, Lochwinnoch, and punched Mr Banach.
Mr McGee then stepped in before he and Wallace - who was described as "deranged" - became involved in a scuffle.
As the soldier lay on the ground, McGrory went back to his car, grabbed a fishing knife and stabbed him.
McGrory and Wallace then fled the scene as Mr McGee's mother, Anne, rushed over to cradle her dying son.
Mother's plea
The 57-year-old told the court she gave him a kiss as she held Paul's hand.
Mrs McGee said: "I just told my son to get up. I said: 'It's mum, please son, get up'.
"Neighbours came onto the street and told me that he had been stabbed - then my son died in my arms."
Mrs McGee added: "He was a son that every mum would have been proud to have."
The jury heard how McGrory got Wallace to throw away the murder weapon after confessing to stabbing Mr McGee.
However, McGrory, as he did during the first trial, tried to pin the blame for the killing on Wallace.
He said: "I made mistakes that night, but I did not make the ultimate mistake and use the knife on that boy.
Co-accused
"Ian Wallace stabbed Paul McGee. Ian Wallace murdered Paul McGee."
Wallace had also originally been charged with murder, but the Crown dropped the case against him.
He instead pleaded guilty at the first trial to assaulting Mr McGee, the taxi driver and his girlfriend's mum, Ann Laycock.
Wallace gave evidence at this latest trial and claimed it was not him who was armed with a knife that night.
The jury returned a unanimous guilty verdict on McGrory, who was given a mandatory life term.
Jailing him for a minimum of 20 years, temporary judge John Beckett QC said Mr McGee was a "brave and decent young man" who was the victim of a "horrifying" attack.
Following the decision, Mr McGee's family and friends - including his mum Anne and sister Kelly - cheered loudly.
McGrory shouted to relatives "keep fighting it - we'll appeal again" as he was led handcuffed to the cells.