Kathleen Milward's grandson Garry Kane 'bought heroin'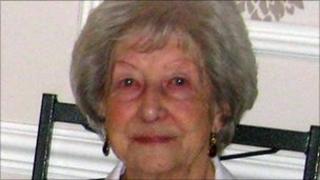 A drug dealer has told a murder trial that he sold heroin to a man accused of killing his 87-year-old grandmother.
David McFarlane, 50, said 41-year-old Garry Kane was a regular customer and had once joked about how he would "love to slap" Kathleen Milward.
But he told the High Court in Dumbarton that it had been a "fun" comment and "there was no bad malice in it".
Mr Kane denies murdering his grandmother at her home in Stonehouse, South Lanarkshire, on 3 January 2012.
Mr McFarlane, from Stonehouse, said Mr Kane had a bad drug habit and bought more than any of his other customers.
Police statement
However, he said a police statement in which he was reported as saying that Mr Kane had a £150-a-day heroin habit, was incorrect.
Mr McFarlane told the jury that he had known Mr Kane for nine months and that he was a regular customer.
The court heard that on either 2 or 3 January 2012, Mr McFarlane was phoned by Mr Kane, but by the time he got to his mobile it had stopped ringing.
Mr McFarlane said he rang back immediately and spoke to Mrs Milward, who had appeared to have been upset with her grandson.
But he said he did not know if there had been any animosity between Mr Kane and his gran.
'No malice'
The court heard that the day after Mrs Milward died, Mr Kane bought three £5 bags of heroin from Mr McFarlane at about 15:00.
Mr McFarlane said he was surprised because instead of just taking the heroin from his through his car window, Mr Kane opened the front passenger door and sat down.
He said that he began teasing Mr Kane about his gran being annoyed and added: "Garry said 'Aye I'd love to give her a slap.'"
Mr McFarlane added: "But it was said in fun. There was no bad malice in it."
Advocate depute Jennifer Bain, prosecuting, then asked: "Did he tell you his gran had been found dead the previous night?".
Mr McFarlane replied: "He never cracked a light about it. I never knew."
Other charges
Mr McFarlane told the jury he only heard about Mr Milward's death days later when an employee at the petrol station he used told him.
Earlier the court heard that Mr Kane bought heroin from another drug dealer on the day his gran died.
Mr Kane is accused of hitting his gran on the head with a blunt implement, applying pressure to her neck by means unknown and murdering her.
He is also alleged to have stolen money from her house.
He also faces a separate allegation that he behaved in a threatening and abusive manner towards his grandmother between 24 December 2011 and 3 January this year.
He is further accused of possessing heroin at several locations in Lanarkshire and three theft charges.
Mr Kane denies all the charges against him. The trial before judge Lord Matthews continues.