Pink bus for 'brave' schoolboy Caden Beggan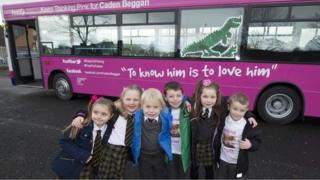 A bus company has painted one of its buses pink to help highlight a Lanarkshire schoolboy's battle with a life-threatening blood disease.
Caden Beggan, six, from Cleland, has had to have both his legs and a hand amputated after contracting meningococcal septicaemia.
A Facebook page, set up by his parents to chart his progress, has attracted almost 30,000 followers.
First Bus is supporting the Keep thinking pink for Caden campaign.
The bus - which has been painted pink with green dinosaurs - has the message: "To know him is to love him".
It was unveiled at Ladywell Primary in Motherwell, where Caden is a pupil.
The firm arranged the transformation after parent council member at the school, Lorraine Dickson, encouraged her husband who works for First to speak to bosses about supporting Caden's family.
The six-year-old is on life support at the Royal Hospital for Sick Children at Yorkhill. He was admitted last month after suddenly becoming ill with the meningococcal bacterial infection.
He has since undergone several operations and has had both legs and his left hand removed in a bid to increase his chances of survival.
Messages of support and prayers have been sent from people around the world after his parents, David and Angela, set up a Facebook page to keep friends and family up-to-date on his condition.
His dad has been updating it daily from his hospital bedside, always beginning with the line: "Caden is alive."
Relatives, friends and staff and pupils at his school, as well as nurses and hospital workers at Yorkhill, have taken part in Day of Pink events aimed at highlighting the youngster's ongoing fight with the disease.
The colour pink is symbolic of the changing colour of Caden's skin - the retreating black mark of meningitis and the advancing pink of healthier skin.
First's engineering compliance manager, Kenny Dickson, said: "I am deeply saddened by this story. The anguish this family is going through has touched many of my colleagues who are keen to do what they can to provide some sort of support.
"On 28 November my colleagues and I will be wearing pink to work and will take part in a silent auction in order to raise funds for the Royal Hospital for Sick Children at Yorkhill. The company is also going to make a donation."
Ladywell Primary head teacher Pat Ashworth said: "This is a very generous gesture from First. We hope it raises awareness of the infection which has struck Caden with such dreadful consequences."