Body of Capt Walter Barrie flown back home to UK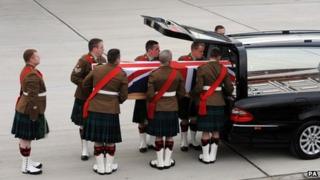 The body of a British soldier shot dead by a rogue member of the Afghan army has been flown back to the UK.
Capt Walter Barrie, from Glasgow, was killed while playing in a football match on Sunday in the Nad-e Ali district of Helmand province.
The 41-year-old served with The Royal Scots Borderers, 1st Battalion The Royal Regiment of Scotland.
A plane carrying his Union flag-draped coffin arrived back at RAF Brize Norton in Oxfordshire on Thursday afternoon.
It was carried from the plane with full military honours.
Memorial garden
A private ceremony for his family is being held on the air base before the cortege makes its way to the John Radcliffe Hospital in Oxford.
The cortege will be escorted, at walking pace, past the memorial garden in Carterton, where the Union flag will be hung at half-mast and members of the public are expected to gather.
Capt Barrie had been mentoring and advising a brigade of the Afghan National Army (ANA) when he was killed.
The football game was between British soldiers and members of the ANA. Capt Barrie was killed after being shot at close range.
News of his death came after the Queen led the Remembrance Day tributes to fallen war dead on Sunday.
His wife Sonia said in a statement: "Capt Walter Barrie was a great man, a doting and amazing father and a fantastic husband.
"He was much loved and will be missed by many."
The couple have a 15-year-old son, Callum.
Capt Barrie had served for 25 years, including tours of Iraq, Bosnia, Kosovo, Northern Ireland and Afghanistan in 2008.
He was deployed to Afghanistan on 31 August and was described by the Ministry of Defence as an "approachable and compassionate officer" who cared deeply for the well-being of those around him.
The soldier's colleagues said he was a "fantastic, engaging and professional man" who was "universally popular".
Lt Col Benjamin Wrench, commanding officer of the Royal Scots Borderers, 1st Battalion The Royal Regiment of Scotland, added that he enriched the lives of everybody he came across.
"His winning personality and Glaswegian wit will be sorely missed, as will the banter we often had as a result of his fanatical support for Glasgow Rangers," he said.
"It is almost impossible to express the sadness we, as a close battalion, are experiencing at this time."
His death takes the total number of UK service members to have lost their lives since operations in Afghanistan began in October 2001 to 438.
Capt Barrie's "green-on-blue" death brings the number of British servicemen killed by Afghan soldiers or police to 14 this year, compared to just one in 2011, three in 2010, and five in 2009.
At least 54 international troops have died as a result of such attacks, where Afghans turn their weapons on their coalition colleagues.