Sistema children's orchestra awarded £1.325m funding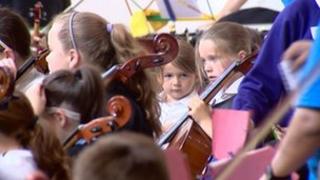 A charity which aims to improve the lives of children in less affluent areas has been awarded £1.325m to set up an orchestra in Glasgow.
Sistema Scotland's first Big Noise orchestra started in the Raploch area of Stirling in 2008.
The Scottish government funding will allow a similar project to be launched in Glasgow's Govanhill area next year.
The Scottish charity is inspired by the El Sistema music education programme set up in Venezuela in 1975.
The four-year £1.325m funding package was announced on Friday by Deputy First Minister Nicola Sturgeon during a visit to Glasgow's Holy Cross Primary School.
'Transforming lives'
Holy Cross is one of four primaries in Govanhill which will form part of a new Big Noise Orchestra.
Ms Sturgeon said: "Sistema Scotland's Big Noise Orchestra is already transforming lives through music, and has the potential to improve confidence, wellbeing, health, education and community safety.
"Big Noise Govanhill is expected to make a real and positive difference to the community and the people who live there.
"Through sitting at the heart of the ongoing regeneration of the area, it will leave a long-lasting and meaningful legacy from the 2014 Commonwealth Games."
A government-commissioned independent evaluation of Big Noise Raploch indicated there was strong evidence the project boosts children's personal and social development, confidence, self esteem, social skills and ability to concentrate.
Glasgow City Council gave its backing in June to plans for a similar project in Govanhill.
It is hoped the scheme will involve up to 800 children by 2017.
Sistema Scotland chairman Richard Holloway said: "This money is a brave and imaginative investment in the future of Scotland's children.
"Since we started in Raploch the Scottish government has been very supportive of our work and we were grateful when they funded independent research to evaluate it.
"We are delighted that they are acting on the findings of that research with this substantial funding package which will help us continue our work in Raploch and enable us to start a new centre in Govanhill."
Mr Holloway said some money for the Govanhill project still needed to be raised privately but the charity would be "working with children there come spring".