Convicted murderer Stuart Harris dies in Shotts Prison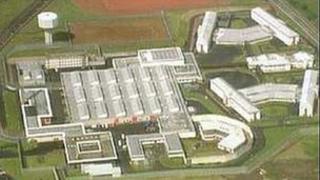 A man who was jailed for life for murdering a friend and setting fire to his body has died in prison.
Stuart Harris and Steven McGowan were jailed for a minimum of 17 years after being convicted of killing Alexander Carruthers in Hamilton in 2002.
The Scottish Prison Service said Harris died in Shotts Prison on Thursday.
A statement said police had been told and the matter would be reported to the procurator fiscal. A fatal accident inquiry may be held in due course.
Following a trial at the High Court in Glasgow, in February 2004, Harris and McGowan were both convicted of murder and attempting to defeat the ends of justice.
Roof argument
The court heard how Mr Carruthers, who was from Motherwell, had become involved in an argument with Harris and McGowan while on the roof of a building in Hamilton, South Lanarkshire, in November 2002.
Mr Carruthers was punched on the head and then pushed off a roof.
While he lay seriously injured with fractured legs, Harris and McGowan repeatedly hit him on the head and body with a bottle, a fluorescent tube, a paint tin, a paint roller and a traffic cone.
They also repeatedly punched and kicked him on the head and body.
Although the victim had survived for two hours, he died as a result of blows to his head, and not the fall from the roof.
The court heard that following the attack the pair then poured petrol over Mr Carruthers and set it alight
Harris failed in an appeal against his conviction in 2009.