Stow College resignation call over secret tape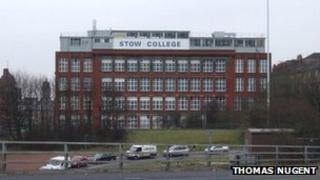 The education secretary has called on a senior college official to resign after a private conversation between them was secretly recorded.
Michael Russell said he no longer had confidence in Kirk Ramsay, the chairman of Stow College in Glasgow.
Mr Ramsay is said to have distributed a recording of discussions over controversial college sector reforms.
He was quoted by a newspaper as saying Mr Russell's comments about him were "disturbing".
Mr Russell has issued a letter to others who were in attendance at the meeting expressing his concerns and informing them that their comments were recorded.
A Scottish government spokeswoman said: "The education secretary's letter makes the position plain.
"Making and distributing a secret and surreptitious recording of a confidential meeting is inconsistent with the behaviour expected of the chair of a publicly-funded college.
"As a result, Mr Russell no longer has confidence in Mr Ramsay. At their meeting on Wednesday he suggested Mr Ramsay should consider his position in the light of that fact but made it clear he had no power to force his resignation."
'Influence and power'
Scotland's colleges face "considerable financial pressures" in the years ahead, according to a report released last month by the public spending watchdog.
Audit Scotland said the planned structural reforms of the college sector may create cost pressures.
There are now 70,000 fewer people going to college than two years ago, although the government has insisted that it has "maintained college numbers at the full time equivalent of 116,000" through focusing on full-time students and cutting thousands of part-time places.
The Herald newspaper said Mr Ramsay had told them he had distributed the recording to a small number of people directly involved in the implementation of college reforms.
He told the newspaper: "I am extremely disappointed that Mr Russell has used his position to seek to exert such control, influence and power both privately, but also so publicly.
"I find his comments about me disturbing given the foregoing. It is regrettable that he has chosen to seek my removal in such a fashion, particularly given the difficult period of change we are all experiencing."