Limbs-in-loch killer William Beggs awarded compensation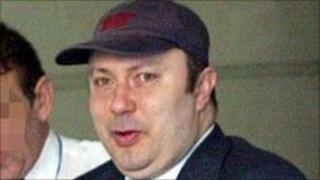 The man convicted of the "limbs in the loch" murder of a teenager in East Ayrshire has won compensation for the length of time taken for his appeals to be heard.
William Beggs was jailed for life for killing and dismembering Barry Wallace in Kilmarnock in 1999.
The European Court of Human Rights has ruled that Beggs be awarded £4,800.
It found his human rights were breached, with appeal proceedings lasting 10 years and three months.
The ruling said his rights were breached under article 6.1 of the European Convention on Human Rights.
Article 6.1 states: "In the determination... of any criminal charge against him, everyone is entitled to a fair and public hearing within a reasonable time by an independent and impartial tribunal established by law."
The award is made up of 2,000 euros for non-pecuniary damage (damages for which there is no formal monetary scale, such as pain and suffering) and 4,000 euros for legal costs and expenses.
Complex case
Beggs has failed in previous appeals to overturn his conviction at the Supreme Court and the Appeal Court in Edinburgh.
A summary of the European Court ruling stated: "Although the case was complex, this did not in itself justify appeal proceedings which lasted over ten years.
"A substantial proportion of the delay had been caused by the applicant's own conduct.
"However, there were also periods of inactivity where the courts had failed to take steps to progress matters of their own motion, and this led the Court to find a violation of the right to trial within a reasonable time.
"As regards Mr Beggs' numerous challenges to the fairness of the trial proceedings, the Court found that his trial was fair and declared all of his complaints inadmissible."
Beggs first made an application to the European Court of Human Rights in June 2006. He was seeking £16,400 in respect of non-pecuniary damage and more than £10,000 for legal expenses.
Beggs was sentenced to life after his trial ended in October 2001.
The jury heard how supermarket worker Mr Wallace vanished on 5 December 1999, after a Christmas night-out with colleagues in his home town of Kilmarnock.
A jury found Beggs took the teenager to his flat and subjected him to a serious sexual assault. He then murdered him and cut up his body.
The killer dumped Mr Wallace's limbs and torso in Loch Lomond and his head in the sea off the Ayrshire coast.
Shortly after the crime, Beggs fled to the Netherlands. After lengthy extradition proceedings, in January 2001 he was ordered to be returned to Scotland to face trial.
After his conviction, Beggs fought a long and complicated battle to overturn his conviction, which ended in failure in March 2010.
In December that year he reached the end of the line when the Supreme Court rejected his bid for a hearing there.