Ashley McDonald and Marc Morrison guilty of baby neglect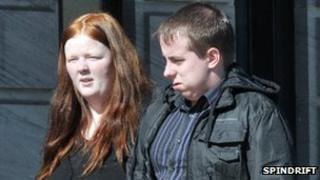 A couple from Glasgow have been convicted of wilfully neglecting their baby son, who died at the age of three months from a rare bowel disease.
Ashley McDonald, 20, and Marc Morrison, 21, were convicted of the neglect between January and February 2011 at their home in Thornliebank.
Glasgow Sheriff Court heard the flat was strewn with waste and baby Anton slept in a dirty cot and was not given proper medication after an operation.
Sentence on the pair was deferred.
After a trial, McDonald was found guilty of neglecting her baby son between 13 January and 3 February 2011 - the day Anton died from a rare bowel disease.
Morrison was found guilty of committing the offence between 20 January and 3 February last year.
Tragic death
Sheriff Stuart Reid told the couple he was satisfied that the case against them had been proven beyond reasonable doubt.
He added: "I have never lost sight of the fact that these two young parents have lost their baby and that child, Anton, died suddenly and tragically as a result of a rare bowel disease entirely unconnected and unrelated to the matters raised in the charge."
The trial heard from a number of witnesses, including health professionals and the families of the two accused.
Pictures of McDonald and Morrison's flat were shown to witnesses. These included images of a carry cot with a stained mattress and cover, bin bags in the kitchen, potato peelings on the worktop and a messy bedroom.
The pictures, taken on the day Anton died, also showed a number of used nappies in the hallway and bottles with traces of milk.
GP Karen Wedlock, who referred Anton to hospital for a hernia, was also shown the carry cot, mattress and cover in the court.
She said it looked as though the nappies had been allowed to overflow, causing staining to the cot.
Cardiac arrest
Paramedic Frances McIntosh broke down in court as she told how she attended the couple's flat and found Anton suffering a cardiac arrest on 3 February last year.
She said the baby was wrapped in a dirty blanket from his cot and that the hallway of the flat was littered with more than 20 nappies.
Mrs McIntosh said Morrison opened the door to the flat and they were shown to a bedroom where Anton was lying.
The court was told that a bad smell was noticeable from when the door was opened.
She said: "The baby was lying on his back with his hands above his shoulders. He had fluid in his mouth, he had no signs of life."
The paramedic added that she drained the fluid from his mouth, confirmed he was suffering from a cardiac arrest and carried out CPR until they arrived at the hospital.
When asked if she noticed anything about Anton, Mrs McIntosh said: "I noticed the baby didn't smell very clean, his fingernails were dirty."
The court heard how police searched the flat following Anton's death.
Post-natal depression
An envelope was found on the bathroom floor with a note describing what had to be done to clean the home.
More than 10 used nappies were found in the flat, while 11 bags of waste were also discovered inside the home, along with another 10 on a balcony.
Defence advocate Margaret Breslin, for McDonald, told the court that her client was likely to have been suffering from post-natal depression at the time.
Sentence was deferred until next month for reports.
Following the trial, Robert McDonald, step-father to Ashley McDonald said: "I am happy with a guilty verdict, that's all we wanted."