Glasgow University given £2.7m sleeping sickness grant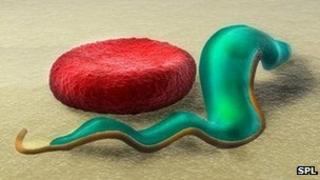 A scientist from Glasgow University has been awarded a £2.7m grant to further the treatment of sleeping sickness.
The Wellcome Trust funding will allow Dr Annette MacLeod to establish a network of African scientists and conduct genomic research.
Sleeping sickness, also known as Human African Trypanosomasis, is caused by a parasite carried by the tsetse fly.
Once in the blood stream it attacks the blood and nervous system and if left untreated usually results in death.
About 60m people, across 36 sub-Saharan countries in Africa, are exposed to the risk of infection.
'Neglected disease'
It is estimated that at least 30,000 people are currently infected.
Dr MacLeod said: "African sleeping sickness is a disease that claims the life of tens of thousands of the poorest people in sub-Saharan Africa.
"Yet, despite its importance, research into this disease has lagged behind that of diseases of developed countries.
"We aim to redress this imbalance and apply the latest advances in scientific research to this disease and in the process train the next generation of African scientists, allowing them to conduct further high-quality research into this and other neglected tropical diseases."