Katherine Grainger backs Active East project in Easterhouse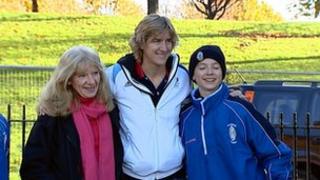 Olympic gold medal-winning rower Katherine Grainger has given her support to a project aimed at encouraging young people to take physical exercise.
Active East works with sport and youth clubs, as well as schools, in the Easterhouse area of Glasgow.
The scheme has been given a a £450,000 funding boost, which should keep it going for the next four years.
Ms Grainger said it would help people benefit from the Commonwealth Games.
Speaking as she visited the project on Saturday morning, the Glasgow-born Olympian added: "After being a part of this fantastic summer of sport I know it's really important there is both the will and the financial back-up to make sure all the new people who have been inspired to get involved with sport either by participating or volunteering can do just that."
Active East will run a small grants programme to support a wide range of activities, from rowing to rambling and from street dance to shinty.
'Active legacy'
The scheme was awarded £125,000 from the Big Lottery Fund, with The Robertson Trust awarding £200,000 and Comic Relief a further £125,000.
Director Jackie Killeen said: "We are delighted to support the Active East project. Its focus on the people of Glasgow's east end, whose landscape is changing as development for the 2014 Games takes place, is vital.
"The people who live in the many communities from the east end of Glasgow will now be much more able to ensure their own wellbeing is improved in the run-up to the games."
Ian Reid, chief executive of Scottish Sports Futures, said: "Active East will provide a range of exciting opportunities for young people in the east of Glasgow to acquire the skills and experience needed to build their own sports and physical activity legacy from the 2014 Commonwealth Games."