Sex crime nursery worker Alexander Mortimer has jail term cut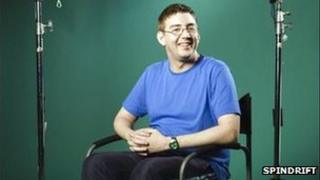 A nursery worker from Lanarkshire who was jailed for eight years for filming himself abusing young boys has had his prison term cut by appeal judges.
Alexander Mortimer, 28, admitted assaulting the boys, taking indecent photographs of children, and possessing indecent images.
His lawyers successfully argued he was not given a large enough sentence reduction for his early guilty plea.
Appeal judges reduced his prison term to five years and 11 months.
When he was sentenced, the High Court in Edinburgh heard how Mortimer filmed and photographed the abuse he carried out, and was found to have 17,967 indecent images and 582 videos on his computer.
Depraved images
Some of the images were categorised as "level five", which are considered the most depraved.
When his home in Rutherglen, South Lanarkshire, was searched by police officers, Mortimer claimed he had been researching child abuse for a college course.
He later admitted molesting the boys, who were aged between two and three at the time, and taking indecent photos of them between April last year and January.
He also pleaded guilty to possessing indecent photos of children in January and downloading the indecent material during the previous three years.
Judge Lady Stacey, who described Mortimer as "clearly a danger to children", gave a discount of 10% on the sentence.
At the Court of Criminal Appeal, his counsel Brian McConnachie QC argued that such a low reduction in the sentence following his guilty plea was an error.
He said: "This was a case where there were potential vulnerable civilian witnesses who would have been required to give evidence had the case proceeded to trial."
Mr McConnachie argued that the general expectation for a guilty plea at the earliest stage was a discount of a third on sentence.
The defence counsel said the sentencing judge appeared to have taken the "overwhelming" case against Mortimer into account when reducing the amount of discount.
But he argued that was now regarded as "an inappropriate matter" to take into account when fixing the amount to be cut from a sentence following a guilty plea.
Lord Mackay, sitting with Lord Philip, agreed to reduce his sentence.