Freshlink sausage factory in Glasgow to close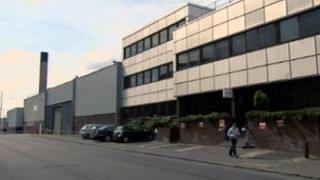 The Freshlink sausage factory in the east end of Glasgow is to close with the loss of 145 jobs.
ABP Foods, which owns the plant in Shettleston, confirmed it was bringing production to an end early next year.
Work is being moved to a factory in Yorkshire as part of "an internal competitiveness-driven restructuring" of the Freshlink Foods business.
Unions and politicians have described the closure as a "devastating" blow for the workforce and local community.
A spokesman for Freshlink Foods said the decision had been taken with "great regret".
'Assistance and support'
He said: "Whilst a significant number of options have been considered during a lengthy and ongoing consultation process with employees, the relocation of production to an existing site within the group had a substantially lower funding requirement than all of the other options considered.
"Freshlink Foods would like to recognise and thank the stakeholders taskforce, the Scottish government and the various agencies involved for their considerable efforts throughout this process.
"As part of the continuing consultation process, employees will be given assistance and support as they seek alternative employment, to include other opportunities within the wider group."
Stewart Forrest, divisional officer for the union Usdaw, said: "This is devastating news for Freshlink's long-serving and loyal workforce and a real body blow to a local community that's already suffering from high unemployment, with 17 people chasing every single job centre vacancy.
"There are entire families employed at the factory and we have many members who have worked at Freshlink for more than 30 years.
"It is an extremely sad day, but our focus must now turn to putting into place the best possible support to help our members find alternative employment and of course to securing a redundancy package from ABF that properly reflects the commitment and contribution our members have made to the success of the company over many years."
Enterprise Minister Fergus Ewing said the closure was "very disappointing news for the staff at Freshlink and their families".
"The Scottish government and our agencies have worked tirelessly with Glasgow City Council and other members of the Freshlink Taskforce to try to secure the future of the plant since it was put under threat this summer.
"An offer of support from the public sector was made to the company and it is deeply disappointing that they were unable to accept this.
"We will continue this joint work to make sure that staff are offered all possible support as they consider their future options."
'Practical assistance'
Mr Ewing said the government's Partnership Action for Continuing Employment (Pace) team stood ready "to offer practical assistance" to those affected by the closure.
John Mason, SNP MSP for Glasgow Shettleston, said the decision would come as a "bitter blow" to Freshlink's workforce.
He said: "Having been part of that taskforce for the last four months, I know that substantial offers of help and assistance were put forward.
"It is extremely frustrating that the company chose not to take them up.
"The 145 staff at Freshlink will now be facing an uncertain future, but I welcome the confirmation that the Scottish government will be putting a Pace team in place to help staff move into alternative employment."
Margaret Curran, Labour MP for Glasgow East, described the Shettleston plant's impending closure as "devastating news for the staff".
"The loss of these jobs is a real blow for the east end where we're already suffering from the effects of this economic crisis," she said.
"ABP Foods did not consider the profound effect this decision will have on both its employees and the local area.
"Freshlink has a dedicated workforce who do not deserve this terrible news."
Bailie Liz Cameron, Glasgow City Council executive member for jobs and the economy, said she was "extremely disappointed by the company's decision".
"The taskforce offered substantial support to the company's owners to enable them to find suitable alternative premises in the city," she said.
"We will do everything in our power to work with all those affected by the decision to find alternative training and employment through our wide range of programmes to help people who find themselves in this position."