Detainee artworks to be exhibited at Glasgow's Tramway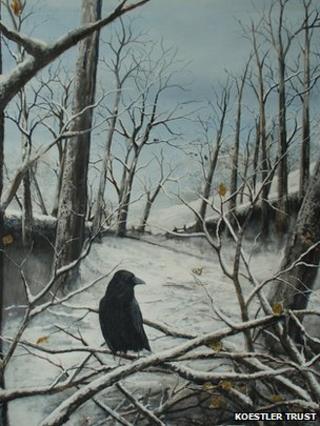 An exhibition of art and writing created by people in detention opens to the public in Glasgow.
Insight and Outlook features more than 100 pieces created by offenders, secure patients and children in detention centres.
And every piece in the exhibition has been chosen by young people who are preparing to leave care, with help from artist David Shrigley.
The event in Glasgow's Tramway runs until 25 November.
It is being staged by the Koestler Trust, which this year marks 50 years of promoting art by offenders, secure patients and detainees.
The Trust has been exhibiting art produced by Scottish detainees for the past four years and this year saw 700 entries from Scotland, which has been described by the charity's chief executive as "the best it has ever had".
The subject matter of the exhibited pieces varies from life inside to street scenes, and all the works being exhibited have been chosen by a small group of care leavers.
They spent two weeks looking at fine art, visiting local galleries and meeting arts professionals before deciding which pieces to include in the exhibition.
In previous years the event has been curated by victims of crime.
One of the curators, 18-year-old Frankie, said: "It's actually really exciting. Volunteering on an art project is a good thing to have on your CV. I didn't have a clue about art before I did this.
"I'd seen the Kelvingrove and the Gallery of Modern Art but I've never really taken an interest in it until now. I never really thought I'd be working with art at all."
As well as choosing the pieces to be exhibited, the young people also decided where it was shown in the gallery, as well as being on hand to explain it to the public when they start coming through the doors on Saturday.
Geraldine, who has lived with her foster carers since she was 15, is studying childcare at college. The 21-year-old said the experience of curating has been invaluable.
"It's helping us voice our opinion," she said.
"There were times when we had to debate with each other and other members of the group, about the reasons why we want a particular piece in. It's a great sense of achievement, seeing it all put up."
Centrepieces include Only in Glasgow, a painted tribute to the traffic cone-topped Duke of Wellington statue outside Glasgow's Gallery of Modern Art by an offender at HMP Kilmarnock; Winter's Crow, a winter landscape in mixed media from HMP Shotts and Disco Boy, a vibrant watercolour created by an offender from HMP Glenochil.
Sarah Grainger-Jones, the Koestler Trust's deputy director of arts, believes creativity can aid rehabilitation.
"Quite often, when people discover that they're good at art, or good at something, that boosts their self-esteem," she said.
"It gives them self-worth and a bit of value, and makes them think about themselves. I think that can only be a positive thing.
"Art is so subjective, but I think what they've chosen are all really fantastic examples of the kind of artwork that we get sent. It was difficult for them to decide."
Koestler Trust chief executive, Tim Robertson, added: "Scottish establishments have always made a massive contribution to our annual awards but the artistic quality and range of work this year is genuinely the best we've ever had."
Some of the entries from Scotland will be considered for this year's Koestler Awards, which were set up by Arthur Koestler, who campaigned for the abolition of capital punishment in the 1950s.
Scottish prisoners do not receive any money through the sale of artworks as prison regulations do not allow it. The proceeds are shared between the prison education department or to a charity chosen by the prison, Victim Support and the Koestler Trust.