Highland bull makes Halloween visit to East Kilbride street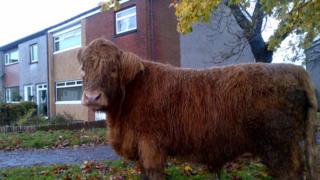 Residents in a quiet South Lanarkshire street had to call in animal welfare officers after finding a Highland bull in their garden on Halloween.
Scottish SPCA staff were called to Colonsay, East Kilbride, early on Wednesday morning.
Animal rescue officers Joanna Boyle and Gavin Law managed to lead the animal back to his field about 200 yards away.
Its thought the bull may have jumped the fence of the field after being startled by a dog.
'Strange sight'
Ms Boyle said: "I was very surprised when I got there and saw there was actually a Highland cow in the front garden.
"Colonsay is a quiet residential street but it leads to a busy main road and the cow was beginning to stray towards it so we're glad we were able to help.
"He was quite reluctant to go back into his field at first but as soon as he saw his three girlfriends waiting for him he went quite happily."
She added: "It was certainly a strange sight for the many people passing by on the school run and one of the most unusual rescues we've been called to.
"Given that we deal with cruelty and neglect day in day out, this did put a smile on our faces.
"We're really glad we were able to return this adventurous visitor to safety after his little escapade."