PC David Brown cleared of John Lacon death crash charge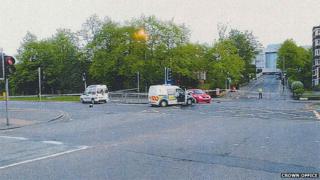 A Strathclyde Police officer has been cleared of causing the death of a taxi driver by dangerous driving.
PC David Brown, 30, was answering an emergency call when his police van hit John Lacon's Fiat Doblo on Glasgow's Great Western Road on 29 April 2011.
The 65-year-old died from his injuries almost two weeks after the crash.
The policeman offered to plead guilty to causing death by careless driving but walked free after he was found not guilty of the more serious charge.
Following the verdict, Mr Lacon's family said it was "deeply shocked and disappointed".
Family 'destroyed'
In a statement, the family said: "Although nothing can replace the loss of a loved one in such tragic and avoidable circumstances, we at least hoped that this process would at least reveal the truth surrounding John's death.
"This has only compounded our feelings of injustice.
"The court process has been a harrowing experience for all members of the family and we have been disgusted at the conduct of Strathclyde Police throughout this process.
"This process has been exhausting for us and we have no more energy left to give it. We have been destroyed and nothing can change that."
During the trial, the court heard how the crash happened as PC Brown was answering an emergency "police in danger" call.
This was issued following trouble at an unofficial Royal Wedding party in Kelvingrove Park, which was attended by thousands of people.
PC Brown was driving along Great Western Road, towards the junction with Dorchester Avenue, when he went through a red light.
In evidence, he told the court that he slowed the police van down and could see Mr Lacon's white taxi, which had a green light, pulling out.
The officer said he believed the taxi driver had seen him and had slowed down to let him pass, but that the taxi's speed then increased.
PC Brown told the court that he immediately applied his brakes when he realised the taxi was coming through the junction, but said it was too late.
Split-second decision
The court heard that after the crash PC Brown went over to Mr Lacon's car and assisted him until paramedics arrived.
The policeman told the jury of 10 women and five men: "I thought he was stopping. It was a split-second decision. I judged it and I judged it wrong."
Admitting he made a mistake, PC Brown said: "I didn't mean to hurt anybody. I was going to an emergency call and I made a misjudgement. It was my fault."
The officer offered to plead guilty to causing death by careless driving but this was rejected by the Crown.
Following a trial, he was cleared of the more serious charge of causing death by dangerous driving.