Steven McIntyre jailed for murdering Jack Doyle in Greenock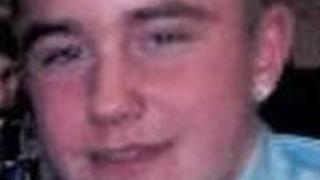 A man has been jailed for life for murdering a teenager in Inverclyde.
Steven McIntyre, 19, killed 17-year-old Jack Doyle by stabbing him once in the back. The victim's body was found in Antigua Street, Greenock, on 3 January.
At the High Court in Glasgow, McIntyre was told he must serve a minimum of 15 years before being eligible for parole.
Co-accused Kevin McIntyre, 28, who had admitted slashing Jack on the face minutes before he was murdered, was jailed for five years and six months.
During the trial, the jury was told that Jack and his killer had met at a party in Antigua Street.
'Flashed' knife
The court heard that Jack had taken a knife with him. It was tucked into the waistband of his trousers, and he had "flashed it" a couple of times.
It was alleged that at one point Jack left the flat and shouted up, challenging the occupants to a fight.
Seconds later he was assaulted by Kevin McIntyre, who was also originally charged with Jack's murder but pleaded guilty to the reduced charge of assault.
During the confrontation, Kevin McIntyre slashed Jack twice on the right side of his face.
Steven McIntyre then confronted Jack, who had blood pouring from his face, and stabbed him once.
The court was told that Jack could have survived if he had received immediate medical attention.
During the trial, Steven McIntyre claimed that he had acted in self-defence and defence QC Derek Ogg said he still maintained that position.
In evidence, he said: "I was terrified and never meant to do it."
Temporary judge Sean Murphy QC told Steven McIntyre that he would be detained without limit of time.
He added: "You are a young man and Jack Doyle was also a young man. It is depressing to note that by the age of 18 you had been convicted of assault on four occasions.
"There is no suggestion you armed yourself that night or set out looking for trouble. That night it was Jack Doyle who was showing a knife to others. You chased Jack Doyle and then stabbed him through the heart.
'Hideous' injuries
"You have destroyed the young life of another person. Jack Doyle didn't live to see his sister married."
Judge Murphy added that Jack would have been disfigured for life if he had survived.
The judge described the injuries inflicted on the teenager as "hideous."
This is the second time that tragedy has struck the Doyle family, from Greenock.
Jack's aunt, Elaine Doyle, was murdered in the town in 1986.
The unsolved crime was the subject of an appeal on the BBC's Crimewatch programme last year.