Roof secured on new Hydro arena at Glasgow's SECC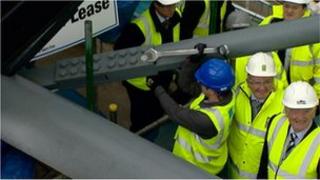 The main structure of Glasgow's newest entertainment venue has been completed after more than one million work hours.
Engineers secured the last roof bolt on the 12,000-seater arena, named The Hydro, on Tuesday morning.
When complete, the venue will form part of the Scottish Exhibition and Conference Centre (SECC) complex, along with the Clyde Auditorium (Armadillo).
It is hoped that when The Hydro opens in September 2013 it will contribute £131m annually to the Scottish economy.
The initial construction phase of the arena, designed by Foster and Partners, was completed by property and infrastructure firm Lend Lease.
Following the traditional "topping out" ceremony on Tuesday, Glasgow City Council leader Gordon Matheson said The Hydro would take Glasgow's global appeal for entertainment events "to an even higher level".
"It's going to be as iconic as its neighbour the Armadillo, and it will play a key role in Glasgow's Commonwealth Games in 2014," he said.
"I can't wait to see this amazing building lit up at night as it hosts many thousands of people.
"And I'm looking forward to celebrating another great Glaswegian venue as it drives more success for our great city."
The Hydro is expected to attract one million visitors each year to about 140 music, entertainment and sporting events.
Its name derives from energy firm Scottish Hydro, which is sponsoring the venue in a 10-year deal worth about £1.5m annually.