Death crash PC David Brown admits 'making mistake'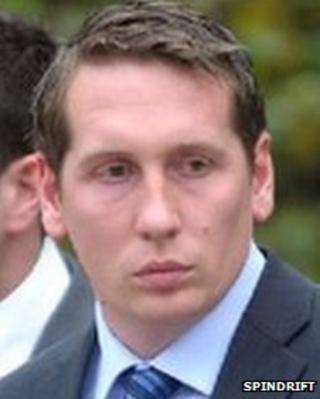 A policeman accused of causing the death of a taxi driver by dangerous driving has admitted that he "made an error of judgement".
PC David Brown told the High Court in Glasgow he was at fault over the crash between the police Ford Transit van and 65-year-old John Lacon's Fiat Doblo.
Mr Lacon died from his injuries almost two weeks after the crash on Glasgow's Great Western Road on 29 April 2011.
The trial before temporary judge John Beckett QC continues.
PC Brown has admitted a reduced charge of causing the taxi driver's death by careless driving at the junction of Dorchester Avenue and Great Western Road.
The Crown has not accepted this and has brought a charge of causing death by dangerous driving.
The court heard that PC Brown was responding to an emergency call before the crash, which came after trouble flared at Kelvingrove Park during the Royal Wedding of Prince William to Kate Middleton.
'Point of danger'
Giving evidence, PC Brown said that as he drove along Great Western Road towards the junction with Dorchester Avenue he realised the only danger was to his left.
He said that as he approached the junction, the traffic lights were at red and he slowed down from about 40 to 50mph to between 10 to 20mph.
The policeman said: "There was only one point of danger as I came up to the junction and that was from the left hand side. I slowed down and checked my speed."
His defence counsel Thomas Ross asked him: "Did you see anything?".
He replied: "There was a white taxi coming down. I looked at it and was clear in my mind the taxi's seen me and he's slowed down.
"I would say he was doing about 10mph when I saw the taxi slowing. I thought it was going to slow just because of the way it came out. His side had the green light.
"There was no reason for him to be going slow unless he had seen me. I thought he had seen me and was going to stop, but then his speed increased."
PC Brown told the court that he immediately applied his brakes when he realised the taxi was coming through the junction, but said it was too late and there was a tremendous bang.
The jury heard that after the crash PC Brown went over to Mr Lacon's car and assisted him until paramedics arrived.
He said: "I could see a gentlemen slumped in the vehicle. I could tell he was quite badly injured.
"I thought it was his head or his neck. I supported his head as straight as I could to take the weight off his neck and kept him comfortable."
The policeman said that other officers arrived at the scene and he, as the most experience officer there, told them to take details of witnesses and ordered that the road should be closed.
He told the jury of 10 women and five men: "I thought he was stopping. It was a split-second decision. I judged it and I judged it wrong."
Mr Ross asked: "Your position is you accept you made a mistake?"
PC Brown replied: "Yes. I didn't mean to hurt anybody. I was going to an emergency call and I made a misjudgement. It was my fault."
The witness told the court that the death of Mr Lacon had affected him and said he has had counselling.
He added: "I know the effect on me is nothing compared to what Mr Lacon's family are going through."
Under cross-examination by prosecutor Iain McSporran, PC Brown admitted that Mr Lacon had done nothing wrong.
Park party
PC Brown was told by Mr McSporran: "You didn't stop or even slow down for the junction at Dorchester Avenue," and he replied: "I did brake."
Mr McSporran then said, referring to the taxi: "Why take the chance it's moving across your path, why not just wait" and PC Brown replied: "I was sure that he was stopping."
The prosecutor then stated: "The only way you could have known it was safe to proceed was if Mr Lacon's vehicle had stopped," and PC Brown said: "No, my judgement was that he had seen me."
The jury was shown footage of the incident in Kelvingrove Park taken from the police helicopter on the day of the Royal Wedding.
The event in the park which had been posted on Facebook attracted about 5,000 revellers.
The court heard that it was peaceful until the DJ pulled the plug on the music at about 17:00 and a minority of the revellers blamed the police for this and began hurling missiles at them.
Ch Supt Nelson Telfer, who was commander of A division that day, said he would have expected PC Brown, who was in Drumchapel, to attend after three "police in danger" emergency calls were made.