Justin McDonald jailed over Philip Gault murder bid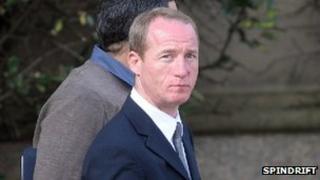 A man who punched a father-of-one under the wheels of a train has been jailed for five years for attempted murder.
Justin McDonald attacked 33-year-old Philip Gault as they got off a train at Coatbridge Sunnyside station after a row over a can of lager.
The High Court in Glasgow heard how Mr Gault was then dragged along the tracks by the train for a mile.
McDonald, 40, was also convicted of assaulting the victim's wife during the incident in August last year.
'Deplorable' behaviour
Jailing him, Lord Tyre told father-of-three McDonald: "You were convicted of the attempted murder of Philip Gault and the assault of his wife Lee.
"When Mr Gault and his wife were walking away from you you assaulted him to such an extent that he fell off the platform as the train was moving off.
"It is deplorable that you did nothing to help him or raise the alert once you realised what had happened to him. It is very fortunate you are not in this court facing a charge of murder."
During McDonald's trial, the court that Mr Gault, from Glasgow, and his wife had spent the day in Edinburgh with friends and were returning home on the last train.
He said that while on the train he had been approached by McDonald who saw him drinking a can of lager and demanded one.
Mr Gault refused but later gave a can to another passenger who "was polite" when he asked.
The 33-year-old said that he was approached by McDonald for a second time as he and his wife got off at Sunnyside station.
McDonald said to him that the can of lager should have been his.
Death fear
He then punched Mr Gault, causing him to fall between the platform and the train.
The victim told the court that he thought he "was going to die" as the train pulled away, dragging him along the track.
He was found about one mile down the track and was taken to Monklands Hospital, where he spent four days before being released.
He suffered tattoo-like scarring to his back, buttocks and left arm and leg. The ligaments in his left knee were also damaged and his shoulder was dislocated.
McDonald was also found guilty of punching Mr Gault's 41-year-old wife, Lee, who was seen on CCTV footage lying dazed on the ground.
McDonald denied attempting to murder Mr Gault and claimed he was acting in self defence after being punched and head-butted.
The jury convicted him after deliberating for 90 minutes.