Duff & Phelps 'asked Craig Whyte to lie over ticket deal'
By Mark Daly
BBC Scotland Investigations Correspondent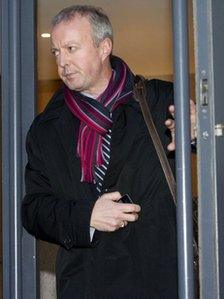 Rangers administrators tried to persuade the club's former owner Craig Whyte to lie about their knowledge of the Ticketus deal.
This arrangement was used to buy the club.
Duff & Phelps asked Mr Whyte to lie because they were afraid HMRC would remove them as administrators over a potential conflict of interest.
The revelations are contained in a recorded conversation between the firm's David Grier and Craig Whyte.
The Ticketus deal - which saw three years of Rangers season tickets sold to London finance firm Ticketus for £25m - was uncovered eight months after the Motherwell-born businessman bought the club.
Mr Whyte used the money to pay off Rangers' £18m debt to Lloyds Banking Group.
The revelation caused anger among Rangers fans, who accused Mr Whyte of lying about how he funded his purchase last May.
In February 2012, when Rangers went into administration and Duff & Phelps took over, the firm described the Ticketus deal as "a matter which we are looking at and trying to understand".
As well as being appointed administrators after the club plunged into insolvency, Duff & Phelps were also involved in Craig Whyte's takeover.
And a BBC Scotland investigation broadcast in May suggested that Mr Grier, a senior Duff & Phelps partner, may have known about the controversial Ticketus deal before the Whyte takeover was complete.
Mr Grier, and Duff & Phelps, denied the claims and said he was unaware of this particular Ticketus deal until August 2011.
The recorded meeting between Mr Whyte and Mr Grier was held a week after the BBC documentary was aired.
It revealed that Mr Grier not only knew that Mr Whyte had sold season tickets to fund the club's acquisition, but that they were intent on denying this because they thought they could get away with it.
It also showed an attempt was made by Mr Grier to get Mr Whyte to agree to the publication of a press release which would vindicate the firm of any knowledge about the Ticketus deal used to buy the club.
Mr Grier said: "We knew that Ticketus was a funder but we did not know that Ticketus would be used for acquisition funding and that is our line.
"So any assistance you can give with that would be considered appropriate because the concern is that when it comes to sparring, with cards on the table HMRC kicks off and it's just a completely disastrous situation."
Mr Whyte: "Yep. It's a disaster."
Mr Grier: "A f****** disaster.
Mr Grier: "So we need urgently the support to say that we were not conflicted and not involved in the Ticketus financing arrangement and if we get that we say to HMRC, look we've told you … we're not involved in, and actually we were not conflicted.
Mr Grier: "You got to say that we were not part of the Ticketus finance, I am not asking you to say we didn't know about it, we knew about Ticketus as a funder - but we were not part of the Ticketus financing arrangements."
Mr Whyte said: "No part of the arrangements?"
Mr Grier: "No part in the arrangements, there is a form of words…."
The statement suggested by Mr Grier was to be drafted by Duff & Phelp's PR advisers, Media House and sent to Mr Whyte.
The following day, the statement Craig Whyte was supposed to make was sent from a Hotmail address purporting to belong to a Ted Smith.
Mr Whyte never released the statement and the recording is to be used in a forthcoming court case involving Duff & Phelps and Mr Whyte's former lawyers Collyer Bristow.
BBC Scotland has been able to confirm with a voice recognition expert that the recording is of Mr Grier.
A spokesman for Duff and Phelps said: "Duff & Phelps maintains that our conduct of the Rangers Administration was carried out to the highest professional standards. We do not respond to information that is taken out of context, as we believe is the case in these BBC stories.
"As we have said previously, we welcome the opportunity to review a complete copy of the information that the BBC references."
Related Internet Links
The BBC is not responsible for the content of external sites.