Alison Hume mineshaft death 'lessons learned' says Scots government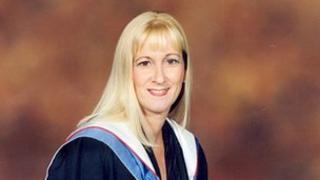 Lessons have been learned from the death of a woman who fell down a mineshaft in Ayrshire, the Scottish Government has said.
Alison Hume, 44, lay for six hours after health and safety rules delayed a rescue at Galston in 2008.
A fatal accident inquiry said her death was "accelerated" by the delay by rescue services in pulling her out.
The government response to the inquiry said new safety measures were now in place, including line rescue training.
The report published in March by the Chief Inspector of Fire and Rescue Authorities, Steven Torrie, set out a number of recommendations.
The Government's response notes that a review of the process for the creation and development of operational policy within Strathclyde Fire and Rescue, the service responsible for the failed rescue attempt, has been undertaken.
Strathclyde Fire and Rescue now has a specialist line rescue team and all eight fire services now have arrangements in place for line rescue, either on their own or through mutual agreements.
National rope rescue training has also been introduced at a new facility at Newcraighall near Edinburgh.
Community Safety Minister Roseanna Cunningham said: "The chief inspector's inquiry was a very important piece of work, and a reminder that the death of Alison Hume was a tragedy the likes of which we never want to see repeat.
"It sets out several areas for improvement that are already being addressed.
"Lessons have been, and will continue to be, learned from a tragic event.
"Its legacy must be that the capabilities of our excellent fire and rescue crews across Scotland are strengthened and lasting and positive change is made."