Glasgow 2014 Commonwealth Games legacy fund opens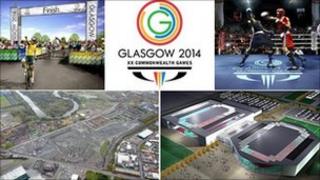 A £10m fund to improve local sport and recreation facilities and leave a lasting legacy after Glasgow 2014 has opened for applications.
Grants between £10,000 and £100,000 are available to help build or upgrade local facilities.
The funding is part of the Scottish Government's Commonwealth Games Legacy 2014 programme.
Money will be awarded to projects such as new skate parks and outdoor adventure facilities.
Minister for Commonwealth Games and Sport Shona Robison said: "The Commonwealth Games will be the biggest multi-sports event Scotland has ever hosted and provides a unique opportunity to create a positive and lasting legacy for Scotland.
"This fund will help communities improve facilities and will appeal to Scots young and old to get more active.
"I want as many people as possible to benefit and to be inspired by the Commonwealth Games to adopt healthier, more active lives."
The funding launch was held at the refurbished Royal Commonwealth Pool in Edinburgh, built for the 1970 Commonwealth Games.
It will host the 2014 diving competition.
Future generations
Commonwealth and Olympic swimming champion David Wilkie said: "Having taken part in the Commonwealth Games in 1970 on home turf, I can honestly say the impact of such a huge event happening in Scotland cannot be underestimated.
"This is a really exciting time for sport and I personally believe the Games coming to Glasgow in 2014 will have wide reaching benefits for the country as a whole.
"We've seen how London 2012 successfully inspired an increased interest in sport, and we need to harness the same energy in Scotland to ensure future generations are inspired and have access to sporting facilities to help them meet their potential."