Fire rips through row of shops in Knightswood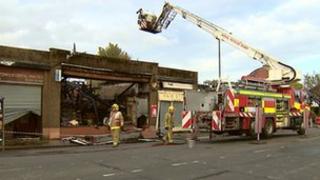 A row of shops in Glasgow's Knightswood area has been badly damaged by an early morning blaze.
The fire ripped through stores in Archerhill Road at about 02:00.
About 50 firefighters were at the scene but had to withdraw at one stage due to the intensity of the blaze, the cause of which has yet to be determined.
Strathclyde Fire and Rescue Service said a decision would be made about the safety of the structure and that the road would be closed until later.
Crews were drafted from Yorkhill, Maryhill, Dumbarton and Govan to help bring the flames under control.
A statement from the fire service said: "The building, comprising of nine shops, was severely damaged by the fire and a determination will be made later today regarding the safety of the structure.
"Police and fire investigation teams are working together to determine the cause of the blaze.
"Fire crews will remain at the scene for some considerable time and Archerhill Road will remain closed until later today."