Glasgow health board MMR uptake now 'exceeding target'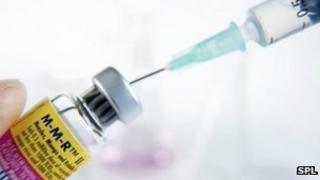 Uptake of the MMR vaccine in Scotland's largest health board area is now exceeding the national target.
NHS Greater Glasgow and Clyde (GGC) said 96.2% of children were being protected against measles, mumps and rubella by the age of five.
This was up significantly from an all-time low of 86.8% in 2003.
Vaccination rates plummeted in the early 2000s after the publication of now discredited research suggesting a link between MMR and autism.
Dr Andrew Wakefield, the lead researcher in the 1998 paper published in medical journal The Lancet, was later found to have broken research rules by the General Medical Council.
'Preventing outbreaks'
The Lancet later said it accepted claims made in the research were false.
Dr Syed Ahmed, consultant in public health medicine, said MMR uptake in the NHS GGC area was now among the highest in Scotland.
"We are delighted the message that MMR vaccination is safe is getting across to parents.
"Over the last few years we have seen a significant rise in the number of children being immunised and that will go a long way in preventing outbreaks of any of the three diseases.
"None of these diseases are pleasant for children or young adults and measles can be particularly distressing for both the child and the parent and can often result in a hospital stay."
Dr Ahmed said the Wakefield study "had resulted in a lot of parents choosing not to have their children vaccinated".
He added: "However, evidence has shown overwhelmingly that the Wakefield study was flawed and parents are now reassured of the vaccination's safety."