Campbell Fisher sentenced for killing Robert Cunningham in Ayr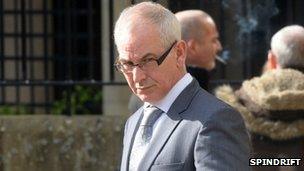 A paramedic who knocked down and killed a 70-year-old man at a pedestrian crossing in Ayrshire has been ordered to perform 150 hours community service.
Campbell Fisher, 56, was answering a 999 call in Ayr when his ambulance struck Robert Cunningham in the town's Prestwick Road on 19 November 2010.
The 56-year-old admitted causing death by careless driving.
At the High Court in Glasgow, judge Lady Stacey also banned Fisher from driving for four years.
Passing sentence, the judge said: "The events of December 19, 2010, were a tragedy for Mr Cunningham's family and nothing I can do will lessen the grief his family must feel.
"I accept that this has been a tragedy on your life too. I've read all the references from colleagues and family and I've listen carefully to the circumstances of the accident.
"In all the circumstances I do not find it necessary to impose a prison sentence in view of your previous good character and lack of previous convictions."
The paramedic was originally charged with causing death by dangerous driving, but the Crown accepted his guilty plea to the reduced charge.
During a previous hearing, the court was told how Fisher was driving an ambulance service rapid response car at 16:48 on 19 December while answering a 999 call from a man complaining of chest pains in Ayr.
Moments before the crash, the 999 call was downgraded from top priority to a non-emergency call on Fisher's on-board computer screen.
As the vehicle went through the pedestrian crossing on Prestwick Road, it struck Mr Cunningham, who had mild cerebral palsy, basic learning difficulties and had been diagnosed as having schizophrenia.
Following the collision, Fisher attempted to resuscitate Mr Cunningham, but he died at the scene.
One witnesses later described how Mr Cunningham had run into the path of the ambulance car as if he had not been aware of its presence, and that the car had not slowed on approach.
The court heard that medical opinion was that a combination of medication and alcohol taken by Mr Cunningham may have resulted in "a decreased appreciation of speed and proximity of traffic".
Police investigators estimated the speed of Fisher's vehicle before braking as being 46mph and stated in a report: "The blame for this collision must lie entirely with the accused."
The court also heard that a car coming in the opposite direction had stopped at the crossing.
Prior to sentencing, the court was told that Mr Cunningham's family did not wish Fisher to go to prison.
Related Internet Links
The BBC is not responsible for the content of external sites.