Anthony McGinley jailed for killing Darren Gavan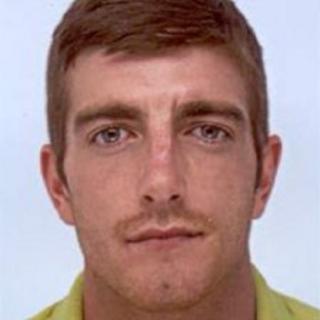 A man who carried out a fatal knife attack in Glasgow, three weeks after being released from a previous prison term, has been jailed for nine years.
Anthony McGinley, 28, stabbed 25-year-old Darren Gavan after a confrontation in Castlemilk on 23 May this year.
The attacked followed claims that Mr Gavan had smashed the windows of a car belonging to McGinley's mother.
McGinley was originally charged with murder but his guilty plea to culpable homicide was accepted by the Crown.
The 28-year-old was released early from prison on 3 May after being jailed for a string of road traffic offences the previous year.
While he was still behind bars, McGinley's mother was involved in a row with Mr Gavan.
She later contacted police, alleging the 25-year-old had damaged her car.
Hidden knife
The High Court in Glasgow heard that McGinley told how he would "see" Mr Gavan when he was released from prison.
On the day of the killing, McGinley and Mr Gavan exchanged text messages leading to the accused becoming "irate".
McGinley was at his brother's home in Castlemilk that night when he became aware of Mr Gavan and his friend Joseph Lee outside.
The court was told how he left the flat armed with a knife that was hidden in a pocket.
McGinley and Mr Gavan confronted each other before the accused was left bleeding after being hit on the head.
McGinley retaliated by stabbing Mr Gavan once on the body. He then said: "I've just done him."
The scaffolder was taken to hospital where he later died.
The court heard how the morning after the attack, McGinley chased after Victoria Lee while brandishing a large ornamental knife.
Previous convictions
Ms Lee - the sister of Mr Gavan's friend - had been seen arguing with McGinley's mother after word spread about the attack.
McGinley was later arrested by police after being found in the backyard of a nearby property.
Following his conviction, the court heard how McGinley had previously been jailed for 18 months in 2008 for an attack.
He also had another serious assault conviction in 2003.
Jailing him, judge Lady Stacey told McGinley that he would have to serve the remaining 345 days of the jail-term he was released early from as well as the nine years.
She also said he would be supervised for a further three years on his eventual release.
The judge added: "You have previous convictions for violence. You are a danger to the public.
"You had been released very shortly before this from a sentence. While that was for road traffic, it still shows that you paid no regard to the trust put upon you."