Craig Whyte claims SPL 'knew' Rangers were going bust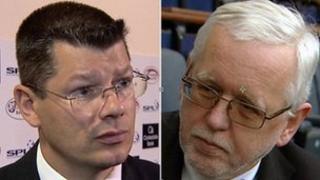 Craig Whyte has claimed that the SPL knew Rangers were going bust months before the club entered administration.
The former Rangers owner said the club "had no money" after being knocked out of European competition by August 2011.
Whyte said he told SPL chief executive Neil Doncaster and former chairman Ralph Topping in October 2011 that "administration was almost inevitable".
He described the SPL and SFA's handling of the affair as a "disaster". Neither body has commented on the claim.
Speaking exclusively to BBC Scotland's Chris McLaughlin, Whyte said that the game's governing bodies were not involved in any way during his negotiations to buy Rangers from Sir David Murray.
'Kept informed'
He said, however, that he "certainly kept them informed" as the club's finances deteriorated.
"In October (2011), I met Neil Doncaster and Ralph Topping in London, told them administration was almost inevitable," he said.
"I told them that exit by a CVA (creditors agreement) is unlikely and that we would need a lot of support to get through a really tough situation."
He added: "They obviously didn't want to lose Rangers from the SPL and they were supportive. It was a positive meeting."
Asked how the SPL and SFA had handled the situation since then, Whyte replied: "It's been a disaster. They've made Scottish football the laughing stock of the world."
"As far as the SFA and the SPL is concerned, what other country in the world would deal with one of their biggest clubs in the way that they have, and demote them to the Third Division," he said.
"There's still investigations going on apparently. They're a laughing stock as far as I'm concerned."
One month after Rangers entered administration in February, an SFA-commissioned independent inquiry, led by Lord Nimmo Smith, concluded that Whyte was "not a fit and proper person" to own a football club.
He was subsequently fined a total of £200,000 for a range of breaches of the association's rules and banned for life from "any participation" in Scottish football.
'Unfair hearing'
Whyte described the Nimmo Smith probe as "a joke and a farce" and said he would never pay the money.
He said: "The SPL are now trying to do something similar with the club, to strip them of titles, which, again, I think everyone must agree that Rangers have been punished enough."
Referring to the fines totalling, £200,000, Whyte said: "I said at the time there's no chance of paying.
"They haven't written to me officially, they haven't asked for any money - but I've made it very clear that I will never pay the SFA £200,000."