Craig Whyte: David Murray 'to blame' for Rangers' woes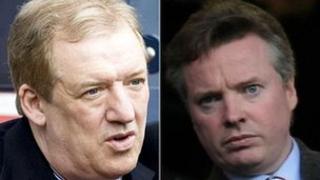 Craig Whyte has laid the blame for Rangers' financial meltdown at the door of former owner Sir David Murray and the old board of directors.
Whyte said Murray's decision to use Employee Benefit Trusts (EBTs) - which saw the club hit with a multi-million pound tax bill - was "ruinous".
The businessman said he was only "driving the train when it crashed" and did not set it on its path.
Sir David Murray declined to respond to Whyte's claims.
Speaking exclusively to BBC Scotland's Chris McLaughlin, Whyte said: "You've got to look to where the problem started, what caused this chain of events.
'Heads in sand'
"What caused it was the ruinous EBT scheme, which was in operation for 10 years.
"If it hadn't been for that, the club wouldn't have been sold for £1 and the club would've been able to get proper funding."
Whyte accused Sir David Murray and the former board of "burying their heads in the sand" once the club had been hit with a tax bill from HM Revenue and Customs (HMRC) over the use of EBTs.
Rangers operated its EBT scheme during the period 2001-2010. This provided more than £47m in payments to players and staff in the form of tax-free loans.
HMRC contends it has proof, in the form of documents and emails, that the payments were contractual in nature, which would make the scheme illegal.
Whyte said that once the bill, for more than £49m including penalties and interest, was served on Rangers, Murray and the old board could have tackled it differently.
He said: "Even if you look back to the previous board, before I was involved, they could've battened down the hatches, they could've cut expenses, they could've got rid of the Lloyds debt themselves, they could've built up a surplus of cash to deal with the tax case.
"They chose not to do that, they chose to bury their head in the sand and not deal with these issues."
'Huge mistake'
Whyte denied lying to Rangers fans over the Ticketus deal which saw him borrow against future ticket revenue to pay off £18m of the club's bank debt to Lloyds.
"I wouldn't say that I lied but I maybe wasn't as open as I could have been. I certainly made mistakes," he said.
"I should've been more open about the funding arrangements and how dire things were and I deeply regret not being more open about that when I first came in.
"It was a huge mistake on my part. I certainly made mistakes and I take full responsibility for any of my actions during the time that I was there."
Whyte added: "But for people to blame me for what's happened to Rangers, the tax liability of £100m or whatever it is, that would be some going, to build that up in nine months."