Edward McNeill sentenced over emaciated dog 'Snoop'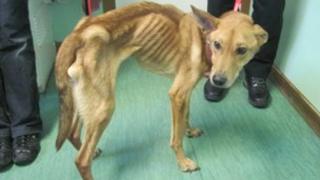 A man who allowed his dog to become "severely emaciated" has been sentenced to 100 hours of community service and banned from owning dogs for five years.
Edward McNeill admitted causing the crossbreed unnecessary suffering by failing to provide adequate nutrition and veterinary attention.
Police discovered the 22-year-old's dog, named Snoop, when they visited his home in Paisley March.
The animal has since recovered and has been re-homed.
McNeill was sentenced during an appearance at Paisley Sheriff Court.
After police discovered the dog at his home they took the animal to a vet before contacting the Scottish SPCA.
'Dead within days'
The animal charity's Chief Inspector Hamish Mackintosh said: "Snoop was severely emaciated and weighed just 7.8kg, when he should have weighed around 16kg.
"The vet gave him a body score of zero, with zero being emaciated and five being obese.
"If Snoop hadn't been discovered, it is very likely he would have died within days as he was so underweight.
"Thankfully, Snoop made a remarkable recovery after just six weeks in our care and has since been re-homed to a loving new owner."