Legal action over Watling Street 'toxic homes'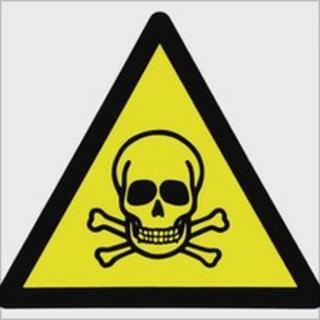 Dozens of people in North Lanarkshire have begun legal action over claims their homes were built on toxic land.
Collins Solicitors said it had launched 42 claims on behalf of 78 residents, who live on or near the Watling Street estate in Motherwell.
They claim the site was never properly decontaminated and is responsible for a number of health complaints.
The action names property company City Link Development, engineers Scott Wilson and North Lanarkshire Council.
A council spokeswoman said no public health issues for concern had been identified at the site.
The Watling Street estate was previously occupied by factories and industrial plants.
Harmful chemical
Since new housing was built in the 1990s some local people have blamed their illnesses on possible contaminated land.
Collins Solicitors, which represents families in and around the estate, has been in dispute with North Lanarkshire Council over the issue.
In October 2010, the council told residents it had found traces of trichloroethylene (TCE) - a potentially harmful chemical - in open ground close to homes in Forum Place, Romulus Court, Empire Way and Tiber Avenue.
Collins Solicitors later said tests it commissioned found the presence of potentially harmful chemicals which "far exceed stipulated safe levels".
It said analysis of air samples, taken from 20 properties in and around Forum Place revealed a significant number of chlorinated compounds and petroleum products (in particular Toluene) in the properties' indoor air.
The council and Collins have since carried out further tests, with the authority maintaining that there is "no evidence to date to suggest significant health risks" on the estate.
Collins Solicitors continues to dispute this and in July this year launched legal action against Lanarkshire Housing Association on behalf of clients Angela and Robert McManus, who live on the Watling Street estate.
The latest action is likely to form a single "test case" to establish whether harmful substances are present at the site and are causing health problems.
'Unfit' homes
Des Collins, from Collins Solicitors, said: "These properties are unfit for human habitation and, given the intransigence of those named today as defenders, the time has come for us to find an immediate solution to the ongoing health problems.
"Each of those named in the joint summonses is responsible for having failed to ensure the redevelopment of the Watling Street site in the 1990s resulted in land suitable and safe for residential use.
"We anticipate that this initial test case will demonstrate the extent of the problem and the need for extensive remediation (decontamination)."
A spokeswoman for North Lanarkshire Council said: "We note Mr Collins' comments and regret that he is not persuaded of the council's responsible behaviour in this matter which has, to date, included a considerable commitment of public resources.
"Despite this commitment, no public health issues for concern have been identified.
"We look forward to the opportunity of demonstrating the appropriateness of the council's conduct and commitment to the court in due course."
Firm consulted
In a statement, Scott Wilson Scotland said that it had "acted as a consultant in connection with the site of the Watling Street estate".
It concluded: "Given the on-going legal action we are not in a position to comment further."
A spokesman for City Link Development said the company was "baffled" why it had been dragged into the affair.
He added: "We bought the land from Scottish Enterprise, who had previously paid a company to decontaminate the site.
"The site has also been assessed as suitable for housing and the tests carried out by North Lanarkshire Council support this.
"Naturally, we intend to defend this latest claim with the utmost vigour."