Organ donors dying wishes rejected says NHS Greater Glasgow and Clyde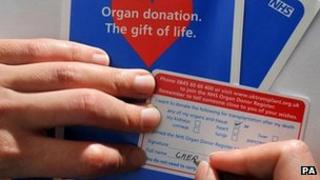 About 15% of potential organ donors are being lost in Scotland every year due to families overruling their loved ones dying wish, it has been claimed.
Scotland's largest health board said it was encountering the issue "all too often" with "distraught" families.
NHS Greater Glasgow and Clyde (GGC) has launched a campaign urging potential donors to make sure relatives are fully aware of and respect their decision.
It said one donor could help up to nine of the 808 people needing a transplant.
The "Respect my dying wish" campaign will run across all media platforms, with particular emphasis being placed on social media.
'Lively debate'
NHS GGC aims to encourage a "lively debate on the issue" on Facebook and Twitter.
It has a set up a dedicated website and a YouTube channel on which viewers can comment on, or share, what they see.
The health board said, however, that "a simple conversation", face-to-face, could often be the most effective way of asking family members to respect your wishes.
Prof Kevin Rooney, consultant in anaesthesia and intensive care medicine at Paisley's Royal Alexandra Hospital, is one of the medics leading the campaign.
He said: "While there has been a successful national focus on driving up the numbers of people who carry a donor card, in recent months we have become aware that one of the biggest obstacles to successful transplants is actually due to relatives refusing to allow organs or tissue to be taken for transplant.
"All too often, families are so distraught that they will not give permission even though the deceased had agreed to be a donor.
"Just one of those willing donors who had their wish overruled could have given us the opportunity to help up to nine of the 808 people currently on Scotland's transplant list."
In Scotland last year, 43 people died while awaiting a transplant.
NHS GGC said all 43 might have survived if "just five people who had signed the organ donation register hadn't been overturned by their family".