Annihilation legal high leaves nine in hospital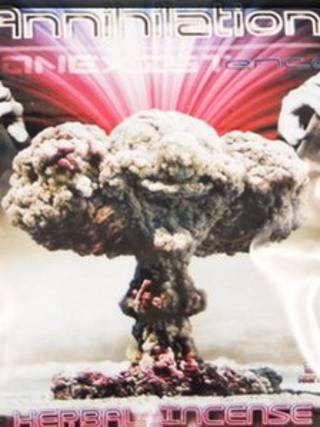 Police have warned about the use of a "legal high" substance that has left nine people in hospital in the past three months.
They said Annihilation, described as herbal incense, is being used predominately by young people in and around Glasgow.
The most recent cases came on Wednesday, when three people became ill after taking it at the same time.
Symptoms can include increased heart rate, numbness and unconsciousness.
The longest that anyone affected by the substance has been kept in hospital was overnight, and that was for observations.
Strathclyde Police said Annihilation was one of many psychoactive substances they been made aware of in recent months.
Det Insp Jim Bradley, Glasgow City Centre Police Office, said it was important people understood the risks associated with taking substances such as Annihilation.
Medical attention
He added: "Just because it's legal, doesn't mean it's safe. No one can predict the risks involved.
"Those who have taken the drug have experienced adverse health effects, including increased heart rate, unconsciousness, numbness in legs causing collapse, paranoia, aggression and self harming.
"The symptoms appear, in some cases, to last for several hours.
"Users can never be sure what they are taking or what the serious consequences can be. The adverse effects on an individual's health are not known but there is potential for short term or long term harm from these substances."
He also warned users against mixing Annihilation with any other legal highs, or with drugs or alcohol, as the consequences could be even more severe.
Anyone suffering from adverse effects after taking any legal high substance should seek immediate medical attention, the officer said.