William McKeeney murder trial: Last words 'heard in phone call'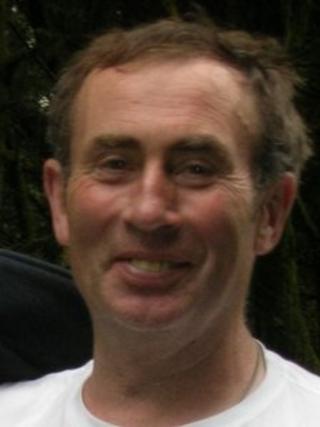 The last words of a man who was allegedly murdered in a racially aggravated attack were captured on the mobile phone of one of two men accused of killing him, a court has heard.
Asif Rehman, 20, and Adel Ishaq, 19, deny murdering William McKeeney, 57, in a street in Pollokshields in Glasgow.
Witness Imran Khan told the High Court in Kilmarnock he had a call from Mr Ishaq before the alleged attack.
He said he heard Mr McKeeney ask: "Is there a problem here, lads?"
Mr Khan, 19, told the court he had a phone call from a friend called Noddy, the nickname of Mr Ishaq, on 15 January.
He said: "I answered and said 'hello' but there was no reply. I could hear their voices talking in English.
"They were running with that shaking, windy noise although it wasn't a windy night. They sounded drunk and hyped."
'Hiding somewhere'
Mr Khan added he heard a voice he recognised as William McKeeney's, who was his neighbour.
He said: "It was an Irish voice and my first thought was that it was Willie's voice.
"I heard the Irish voice saying, 'Is there a problem here lads? What's the problem?'".
Mr Khan told the court: "I didn't look outside my window because I didn't know it was happening outside my house."
The witness said that about five minutes later Mr Ishaq phoned back and asked where Mr Khan was.
"He said it very aggressively and it was like whispered shouting, like he was hiding somewhere," Mr Khan added.
He said Mr Rehman then took the phone and warned Mr Khan not to walk out as they had just "splattered" someone outside his house.
'Previous malice'
Mr Khan admitted giving a statement to police in which he refused to supply names.
Asked why that was the case by advocate depute Tim Niven-Smith, Mr Khan said: "Because I didn't want to be a grass."
Mr Khan flinched as he was handed a picture of Mr McKeeney lying dead in hospital. Mr Niven-Smith told him: "You are here to give evidence."
Mr McKeeney died at the city's Victoria Infirmary.
Mr Rehman and Mr Ishaq, both said to be prisoners at Polmont Young Offenders Institution, deny the racially aggravated murder of Mr McKeeney and showing previous malice and ill-will towards him.
They are accused of attacking Mr McKeeney and causing him to fall to the ground.
They are then alleged to have repeatedly punched and kicked him, and stamped and jumped on his head and body.
The trial continues.