Diane Orr killed friend Christina Steven over £10 loan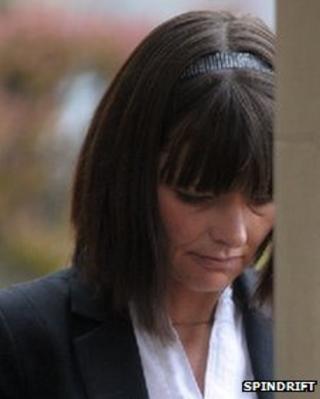 A woman who killed her friend after she was asked to repay a £10 loan has been convicted of culpable homicide.
Diane Orr, 41, attacked 38-year-old Christina Steven in Glasgow's Shettleston area on 22 January.
The High Court in Glasgow was told that the victim died from her injuries three days later in hospital.
Sentence on Orr, who claimed she had defended herself in a "cat-fight", was deferred until later this month and she was remanded in custody.
The court heard how Ms Steven, who was described as having a limited income, had helped out Orr with the loan of £10.
Repeatedly punched
The women had known each other for a number of years and stayed near each other in Shettleston.
On 22 January, Ms Steven went to Orr's home to get her money back.
Orr lashed out at her and she ended up with a cut head after being repeatedly punched.
Ms Steven returned to her own flat, but her family were later unable to get hold of her.
Her father James told the jury how he and his wife Margaret, 60, went to their daughter's home and were let in by a man.
Mr Steven recalled being "shocked" at the condition he found his daughter in.
The 61-year-old said: "She was lying down and her head and face were swollen up.
"She was in a hell of a state. I knew that she was not right, she was lifeless.
"She was not moving at all and was not making any noise."
Defence claim
Mr Steven dialled 999 but his daughter never recovered and died on 25 January at the city's Southern General Hospital.
Orr was held by police and admitted being in a "fight" with Ms Steven but claimed during the trial that it was Ms Steven who started the argument and lunged at her.
She said there had been a "cat-fight" and told the court that she had been defending herself.
The jury did not believe her story and convicted her of culpable homicide.