Two children injured by bangers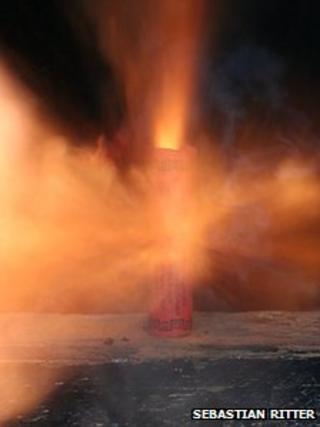 Hundreds of fireworks have been recovered from a shed after two children were injured in separate incidents.
A 15-year-old boy was seriously hurt when a banger exploded in his hand in Motherwell at about 17:20 on Thursday.
Another boy, 12, suffered superficial burns to his hand after being scorched by the same type of firework.
Police said up to 1,000 bangers were being stored in a shed in New Stevenston, North Lanarkshire.
The shed was behind houses in the vilalge's Blackmoore Place.
The fireworks consist of a rolled up paper tube filled with gunpowder and a fuse at the top.
After bangers are lit, they are usually thrown before exploding with a loud bang.
Strathclyde Police said the older boy was taken to Wishaw General Hospital but was later transferred to Glasgow Royal Infirmary, where his condition is described as stable. His hand had been seriously injured.
The 12-year-old was treated at Wishaw General Hospital following the incident in Wrangholm Drive, Carfin, also North Lanarkshire, at 14:30, and was later released.
The force is investigating whether the batch found in the shed is defective and warned members of the public, especially youngsters, to take extra care when handling any type of firework.
Insp Gavin Russell, from Wishaw Police Office, said: "So far we have recovered several hundred but believe there could have been up to a thousand hidden there.
"At this time we do not know who the fireworks belong to or indeed who owns the shed they were in.
"It is very possible that they have been stolen from another premises and stored there, with or without the owners' knowledge; however, this is still to be established.
"What concerns us at the moment is that they now appear to have got into the hands of local youngsters in the Newarthill, Holytown, Carfin and New Stevenston areas.
"It is too early to say whether the injuries the boys sustained are due to the way they have been handled or if the batch is defective; however, my main point here is to make sure that anyone else who comes across them is not injured.
"I would urge people who are offered them either to play with or to buy, not to use them but to hand them into police.
"I would also appeal to anyone who has information about the fireworks, where they came from or who they have been circulated to, to contact officers."