Crimean-Congo Viral Haemorrhagic Fever case in Glasgow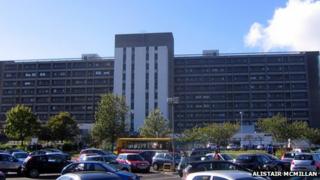 A man is being treated in complete isolation in Glasgow after being confirmed as having Crimean-Congo Viral Haemorrhagic Fever.
The 38-year-old man is said to be in a critical condition in the city's specialist Brownlee unit.
He was admitted to hospital less than three hours after returning to Glasgow on Emirates flight EK027 from Dubai.
The tick-borne tropical disease, which is rare in Western Europe, is fatal in up to 30% of cases.
The Brownlee unit at Glasgow's Gartnavel General Hospital specialises in infectious diseases.
NHS Greater Glasgow and Clyde said the risk of person-to-person transmission of the virus is extremely low.
However, as a precautionary measure those who have been in close contact with the patient are being contacted to ensure that there has been no transmission.
This includes tracing three of his fellow passengers on the flight from Dubai to Glasgow which arrived at 12:35 on Tuesday.
They were seated in close proximity to him on the flight. The three passengers are being contacted directly as a precaution to ensure that there has been no transmission.
The risk to all other passengers on the flight is said to be very low, but if they have any concerns they should contact NHS24 on 08000 85 85 31 for advice.
Sudden onset
A spokesman for the health board said: "Given the fact that this man went into the care of the NHS within three hours of his flight arrival in Glasgow and travelled directly home via private transport from the airport we are confident that his close contacts subsequently within the city were minimal.
"We have also identified all NHS staff, airport and airline staff who have had contact with the patient and any necessary follow-up action will be taken."
Dr Syed Ahmed, the board's Consultant in Public Health, said the virus can only be transmitted by direct contact with infected blood or body fluids. It is not transmitted through the air.
He added: "Crimean Congo Viral Haemorrhagic Fever (CCHF) is a widespread tick-borne viral disease.
"It is not common in Western Europe but is endemic in parts of eastern and southern Europe, central Asia, Africa, the Middle East and the Indian subcontinent.
"As soon as laboratory sampling confirmed that the patient was suffering from this virus all the appropriate agencies were informed."
CCHF is a zoonosis - a disease found in animals that can infect humans.
Outbreaks are usually linked to contact with blood or body fluids from infected animals or people.
Onset is sudden, with initial symptoms including high fever, joint pain, stomach pain, and vomiting.
Red eyes, a flushed face and red spots in the throat are also common.
As the illness progresses, patients can develop large areas of severe bruising, severe nosebleeds, and uncontrolled bleeding.