New tribunal hearing for police worker sacked over sex offender twin case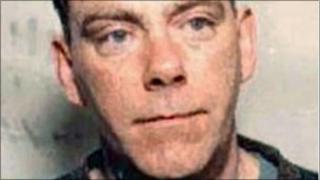 A police worker who was dismissed after withholding information over his missing sex offender brother has won the right to have his case heard again.
Strathclyde Police sacked Andrew Cusick for gross misconduct and breach of trust for contacting his twin, Martin.
An employment tribunal later ruled this was unfair, but that decision was reversed at a later appeal tribunal.
Judges at the Court of Session have now sent the case back to the employment tribunal for a full hearing.
Mr Cusick, 56, worked as a civilian training officer after retiring from the force after 30 years of service.
Canada arrest
In 2005 his twin Martin Cusick, also a former police officer, left his Clarkston home and disappeared. The convicted sex offender was legally required to tell police of any change of address.
An investigation was launched to find out the whereabouts of Cusick, who was jailed for five years in 1996 for sexually abusing three children aged between six and 12.
The father-of-two was eventually caught in Ontario, Canada, in April 2008 and deported a month later to Heathrow Airport, where he was arrested on his arrival.
Andrew Cusick was later sacked from the Strathclyde force over contact with his brother when a warrant had been issued for his arrest.
An employment tribunal subsequently ruled that was unfair and ordered his reinstatement and awarded compensation of £26,649.
Last year, however, an employment appeal tribunal reversed the decision and held that there had been gross misconduct and that the dismissal was fair.
Mr Cusick appealed this decision before three judges at the Court of Session in Edinburgh.
Lord Clarke, who heard the appeal with Lord Hardie and Lord Osborne, sent the case back for a full hearing at the employment tribunal.
Lord Clarke said: "The appellant (Mr Cusick) knew of the warrant and that the police were looking for his brother.
"It appears to have been a matter of agreement before the employment tribunal and the employment appeal tribunal that, over a period beginning some six to eight weeks after his brother's departure, until April 2008, the appellant received information about his brother's whereabouts which he withheld from the police, despite specific enquiries being made of him regarding his brother's whereabouts.
Tribunal jurisdiction
"Eventually at an interview with the appellant, held in April 2008, he advised the police that he believed his brother was in Canada.
"He had available to him an email address for his brother and a Canadian telephone number for him.
"He informed those interviewing him that he had received information indicating that his brother was working as a taxi driver."
Lord Clarke said that the three judges were entirely satisfied that when the case reached the employment appeal tribunal it had "clearly stepped outside its jurisdiction" and approached it as if it were a first instance tribunal.
He said: "It is clear to us that the case has never been properly dealt with, either before the employment tribunal or the employment appeal tribunal."
The judge said: "Having regard to the very special circumstances of the case, it is important the issues are fully and properly ventilated."
Lord Clarke said the case "might be said to raise some important considerations of public interest".
He added: "It certainly cannot be seen as simply a typical or common unfair dismissal case."