William McKeeney murder trial: Victim's partner 'saw attack'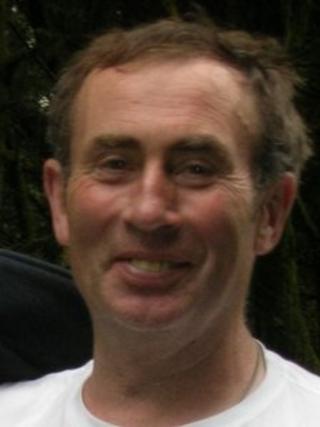 The partner of a man who was allegedly murdered in a racially aggravated attack has described seeing two Asian men kicking and stamping something.
Annemarie Newlands, 48, told a trial how she then found 57-year-old William McKeeney lying injured yards from their home in Pollokshields, Glasgow.
She said he was "battered" with "the side of his face all swollen".
Asif Rehman, 20, and Adel Ishaq, 19, deny murdering Mr McKeeney, who was from Donegal.
Ms Newlands told the the High Court in Kilmarnock that Mr McKeeney had been out at a local pub on the night of 15 January this year.
She said she had been watching out for him from a window of the flat they shared in Melville Street.
The witness told the court that she had seen "two Asian men stamping on something".
999 call
After they had left the scene, Ms Newlands said she stood on a trunk and was able to see a dark shape which she thought was a person.
When she ran outside she realised the dark object was her partner, Mr McKeeney.
She told the court: "He was very battered and the side of his face was all swollen."
The court also heard the 999 call made by Ms Newlands after she discovered her partner.
Mr McKeeney died at the city's Victoria Infirmary.
Mr Rehman and Mr Ishaq, both said to be prisoners at Polmont Young Offenders Institution, deny the racially aggravated murder of Mr McKeeney and showing previous malice and ill-will towards him.
They are accused of attacking Mr McKeeney and causing him to fall to the ground.
They are then alleged to have repeatedly punched and kicked him, and stamped and jumped on his head and body.