Sir Jimmy Savile statue removed from Scotstoun Leisure Centre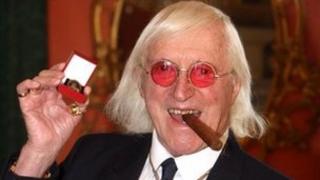 A statue of Sir Jimmy Savile has been removed from a leisure centre amid child abuse allegations.
The DJ, who died last year aged 84, is accused of a number of "serious and disturbing" allegations which claim he abused teenage girls.
The BBC has said it is investigating some of the allegations which relate to activity on its premises
A wooden statue of Savile which stood outside Scotstoun Leisure Centre in Glasgow has now been removed.
A spokesman for Glasgow Life, which operates the centre, said: "Given the current controversy and the seriousness of the allegations, we thought it appropriate to move the statue at this time."
It comes as a historic rape allegation made against the entertainer was referred to Scotland Yard by officers in Surrey, and revelations that other allegations against Savile were dropped because of a lack of evidence.
A BBC spokesman said: "A number of serious and disturbing allegations have been made over the past few days about the sexual abuse of teenage girls by Jimmy Savile.
"Some of these allegations relate to activity on BBC premises in the 1960s and 70s.
"We are horrified by allegations that anything of this sort could have happened at the BBC - or have been carried out by anyone working for the BBC.
"We have today asked the BBC investigations unit to make direct contact with all the police forces in receipt of allegations and offer to help them investigate these matters and provide full support to any lines of inquiry they wish to pursue."
A memorial plaque outside Savile's former home in Scarborough has been defaced with graffiti, with the words "paedophile" and "rapist" scrawled across it.