Paul Hadden given 10 years for killing Iain O'Brien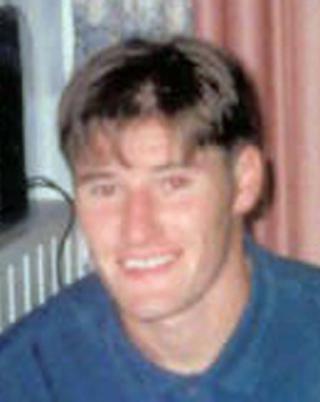 A man who killed his partner's ex-boyfriend after he broke into her home while they were having sex has been jailed for 10 years.
Paul Hadden, 32, from Airdrie, stabbed Iain O'Brien 21 times after the 39-year-old smashed his way into Lynn McMillan's home with a baseball bat.
The incident took place in January at Ms McMillan's home in Coatbridge.
Hadden, who was originally charged with murder, was convicted of culpable homicide at the High Court in Glasgow.
Passing sentence judge Lord Burns told Hadden: "You have been convicted of the culpable homicide of Iain O'Brien by stabbing him repeatedly with a knife and during that inflicted 21 significant stab wounds in which two went to the heart."
'Physical harm'
He added: "I do acknowledge that this was not a premeditated attack on Mr O'Brien and evidence disclosed he came to the house of Lynn McMillan armed with a baseball bat with the intention, it was clear, of causing her and possibly you physical harm and he did to both you and Lynn McMillan albeit to a limited extent."
The judge said Hadden had "deprived the family of Mr O'Brien of a son and nephew" and the only appropriate sentence was a custodial one.
During the trial, the court heard how Hadden and Ms McMillan were in a relationship for three and a half years before they split up on 5 November 2011.
She began seeing Mr O'Brien, who was her childhood sweetheart, at the end of November last year.
Ms McMillan said she split with him on 29 January, claiming he was violent and aggressive when drunk.
The court heard that Ms McMillan and Hadden still had feelings for each other and got back together the following day.
Mr O'Brien refused to accept the break-up and bombarded Ms McMillan with phone calls and text messages on 31 January.
She contacted police who attended her home and heard the last threat made by Mr O'Brien in which he insulted her and said: "I'm going to get you."
When officers left, Hadden and Ms McMillan believed that they were on their way to arrest Mr O'Brien.
Self-defence claim
A short time later, while they had sex in the kitchen, the 39-year-old used a baseball bat to smash his way into Ms McMillan's house.
During the ensuing struggle, Hadden grabbed a kitchen knife and stabbed Mr O'Brien 21 times. Two of the wounds to his heart were fatal.
Hadden claimed, in evidence, that he was acting in self-defence, saying Mr O'Brien was swinging the bat wildly at him and he had to protect himself.
The jury heard, however, that he had only suffered minor injuries.
Pathologist Dr Marjorie Turner revealed that Mr O'Brien suffered 21 stab wounds to his left hand side. He also had 37 other injuries on his body.
Neighbours heard Hadden say of Mr O'Brien, who was lying fatally injured: "Is he still pulsing."
Hadden then added: "I'll get 10 years for attempted murder."
It later emerged that Hadden has previous court convictions for drugs and assault to severe injury.