George Glackin disappearance: Almost 1,000 people interviewed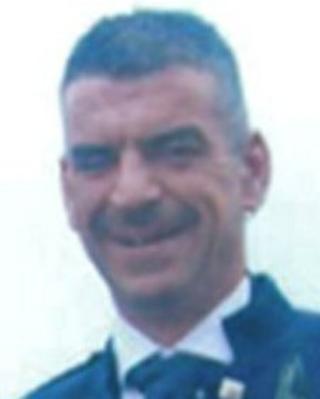 Police investigating the case of a South Lanarkshire man who has been missing for more than two weeks have questioned almost 1,000 people.
The stop and interview operation in Glasgow's Saltmarket area on Tuesday, asked members of the public about 43-year-old George Glackin.
He was last seen in The Spirit pub on London Road on 18 September.
Concern is growing for Mr Glackin, from East Kilbride, who is partially-sighted and takes daily medication.
Officers from Strathclyde Police carried out a stop and interview operation in Saltmarket between 16:30 and 18:30 on Tuesday.
'Increasingly concerned'
Almost 1,000 people were spoken to around the Tolbooth bar, Spirit bar and McKinnon's bar - the area where Mr Glackin was last seen.
New CCTV stills were also released of the 43-year-old within McKinnon's bar on Saltmarket about 14:40 on 18 September.
Supt Steven Reed said: "As time passes we are becoming increasingly concerned about George's wellbeing.
"He requires daily medication and we know that he has not taken this with him.
"Although George had been known to take himself off for a few days in the past, he would always make contact with his family and has never been away for this length of time."
Supt Reed said Mr Glackin had access to a phone but it was "very unsettling" that he had not been in contact.
He added: "We also know that he has access to money but to date he has not used his bank cards."
Sister's house
Mr Glackin was last seen leaving his sister's house in Garrowhill, Glasgow, on the evening of Monday 17 September to go to work as a construction supervisor.
He did not return the following morning, but was captured on CCTV at The Spirit pub at about 17:00.
Since then, there have been no sightings of the father-of-three, who also has two stepchildren from his marriage to wife, Karen.
He was reported missing to police on Thursday 20 September.
Mr Glackin has short black hair which is greying at the sides, a moustache and was last seen wearing a knee-length black parka jacket with a red hood, blue jeans and white trainers.
He is also a keen fisherman and walker and is known to frequent the Trossachs, as well as pubs around the Saltmarket, Rutherglen, East Kilbride and the east end of Glasgow.