Campbell Corrigan replaces Stephen House at Strathclyde Police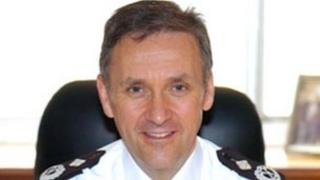 Campbell Corrigan has been named acting Chief Constable of Strathclyde Police following Stephen House's appointment to head Scotland's new single force.
The former Deputy Chief Constable was confirmed in the top job at a meeting of Strathclyde Police Authority in Glasgow on Monday.
The post vacated by Mr Corrigan will now be filled by former Assistant Chief Constable Rhuaraidh Nicolson.
In turn, his position will be filled by Chief Superintendent Russell Dunn.
Mr House was appointed last week to head up Scotland's new single police force, which comes into being in April next year.
He has already said that as many as 3,000 support staff could be lost as he seeks to merge eight forces into one.