Rangers' final tax bill tops £94m, Duff and Phelps reveals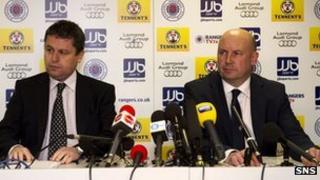 The old Rangers Football Club owed more than £94m in unpaid tax and penalties, according to its administrators.
The final report to creditors from Duff and Phelps reveals that the size of HM Revenue and Customs claim against the club totalled £94,426,217.
It also shows that the administrators are claiming £3,121,683 in fees.
Creditors have until 12 October to vote on the report. When the administration period ends, the old Rangers FC will be placed in the hands of liquidators BDO.
Rangers was forced into administration by HM Revenue and Customs (HMRC) on 14 February over non-payment of tax totalling about £14m.
Third Division
Craig Whyte, who bought the club from Sir David Murray last year, was successful in having his nominated firm, Duff and Phelps, appointed.
Following a hearing at the Court of Session, David Whitehouse and Paul Clark were appointed as joint administrators of the club.
After HMRC rejected proposals for a creditors agreement that would have allowed the old club to continue, Duff and Phelps negotiated a sale of assets to a consortium led by Charles Green for £5.5m.
He has since formed a new club, now playing in the Scottish Football League Third Division.
In its final report to creditors, Duff and Phelps states: "The joint administrators have continued to review the claims made by HMRC in the administration.
"The claims are largely made up of determinations issued by HMRC in accordance with Regulation 80, penalties and outstanding PAYE/NIC.
"The joint administrators have adjudicated on these claims and confirmed to HMRC that for voting purposes, their claim will be admitted for voting purposes at £94,426,217.22."
The majority of that figure relates to the old company's use of Employee Benefit Trusts (EBTs), on which HMRC claimed unpaid tax and penalties in excess of £49m.
October judgement
A judgement on an appeal of this assessment, which was heard at a First Tier Tax Tribunal, is imminent.
The creditors report notes: "An outcome has yet to be determined by the tribunal and is currently expected in October 2012."
Among the resolutions which creditors are being asked to approve is Duff and Phelps' fees.
The report states: "That the creditors approve the remuneration, expenses and outlays of the joint administrators in respect of all accounting periods not previously approved, being, in respect of remuneration only, £2,930,644 for the period 14 February 2012 to 29 June 2012 and £191,039 for the period 10 August 2012 to 14 September 2012."