Computer failure blamed for Glasgow airport delays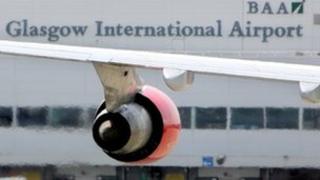 Hundreds of people were delayed at Glasgow Airport overnight because of a UK Border Force computer failure.
Passengers on three planes arriving from Greece and Egypt were forced to wait for several hours when their passports could not be verified.
A spokesperson for the airport said the computer system was now back up-and-running and the queues had been cleared.
The UK Border Force said security had not been compromised.
Passenger Simon Nicol, who was travelling with his partner, young baby and parents, told BBC Scotland: "You are talking about three plane loads of folk, there was a huge queue, we were right at the back and there were a lot of people starting to get pretty irate.
"Eventually they called through people with young children and we made our way to the front but then we were held up at the front for a good half hour."
A UK Border Force spokeswoman said: "A power failure in the Border Force computer systems at Glasgow airport this morning led to regrettable delays for some passengers.
"The problem was quickly fixed, full checks were carried out on all passenger