Missing man George Glackin's family in emotional appeal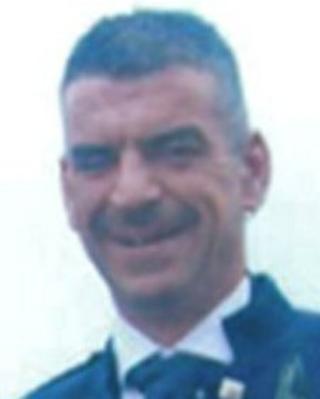 The family of a South Lanarkshire man who has been missing for almost two weeks have made an emotional appeal for information about his whereabouts.
George Glackin, from East Kilbride, was last seen in The Spirit pub in London Road, close to Glasgow's Saltmarket area, on 18 September.
The 43-year-old, who is partially-sighted, takes daily medication.
His brother told a police news conference: "We all miss you and want you to come home."
Mr Glackin was last seen leaving his sister's house in Garrowhill, Glasgow, on the evening of Monday 17 September to go to work as a construction supervisor.
No sightings
He did not return the following morning, but was captured on CCTV at The Spirit pub at about 17:00.
Since then, there have been no sightings of the father-of-three, who also has two stepchildren from his marriage to wife, Karen.
He was reported missing to police on Thursday 20 September.
Police say Mr Glackin is vulnerable as he has a number of conditions. He did not have his daily medication with him when he was last seen.
Mrs Glackin, her daughter Michelle Reid, 19, and Mr Glackin's sister, Marie McNamee, 49, who he had been staying with when he disappeared, sobbed as his brother, Ronnie Glackin, appealed for him to contact them.
"George, we all miss you and want you to come home," he said.
"You've done nothing wrong and for any reason you left, it doesn't matter.
"Please get in touch with either us or the police to let us know that you are safe and well.
"Also, if anyone else has seen George in the last couple of weeks, please tell the police."
'Stand out'
Mr Glackin, 47, fought back tears as he concluded: "We love you and miss you very much, and just want you to know we love you and to know you're okay."
Ch Insp Pat O'Callaghan, leading the inquiry, said 6ft 4in Mr Glackin would "stand out in a crowd" and that he was always "the life and soul of the party".
He has short black hair which is greying at the sides, a moustache and was last seen wearing a knee-length black parka jacket with a red hood, blue jeans and white trainers.
Mr Glackin had bank cards and a mobile phone with him when he disappeared, but they have not been used.
His family believe he might have had a large sum of cash on him, and say he is not a frequent user of mobile phones.
Mr O'Callaghan said: "He is the youngest of five siblings, known to his family as the wean and known to his pals, friends and everyone who knows him as Big Geo."
He said Mr Glackin is a keen fisherman and walker and is known to frequent the Trossachs, as well as pubs around the Saltmarket, Rutherglen, East Kilbride and the east end of Glasgow.