North Lanarkshire Council consults on £70m cuts plan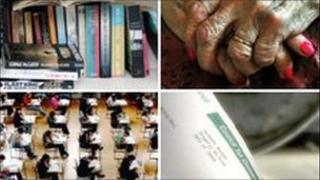 A major consultation gets underway later on a £70m savings programme which could cut hundreds of jobs and reduce services at North Lanarkshire Council.
All 148,000 households in the area will receive a 20-page booklet outlining the need for £73.3m of savings between April 2013 and March 2016.
The month-long campaign will ask people for their views and ideas for savings.
The council has published 281 options worth £105.7m, which councillors will choose from after the consultation.
In December 2010, the authority announced plans to cut 600 jobs in a bid to save £55m over the next two years.
Cuts options
The proposals for the latest round of cuts could lead to the equivalent of 1,362 full-time jobs going.
The actual number is expected to be significantly lower and will depend on which options councillors chose.
Potential options for councillors to consider include:
axing lunchtime school crossing patrols to save £300,000;
axing Christmas lights to save £200,000;
moving bin collections from a fortnightly cycle to a three week cycle;
introducing charges for some parts of the pest control service and reducing grants to Citizens Advice Bureaus.
Although several hundred jobs could go, the council says it will always try to avoid compulsory redundancies. It has already cut several hundred jobs with only a handful of compulsory redundancies.
North Lanarkshire's head of communications, Stephen Penman, said: "The scale of savings we are facing makes it absolutely vital we consult with our residents.
"We are working to reach as many people as possible within a very short timescale.
"The consultation will run through the whole of October with the results, comments and suggestions being collated during November."
He added: "These will then form part of a report to council in December, when the options will be considered by councillors."