Death crash driver Rehman Afzal did not call 999 after hitting Dan Roberts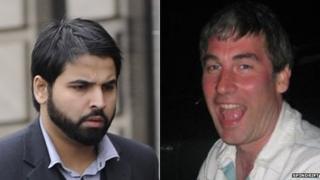 A driver who knocked down and killed a man did not call 999 as it would use up credit on his mobile phone, a court heard.
Rehman Afzal, 28, was convicted of causing the death of 40-year-old Dan Roberts by inconsiderate driving in Glasgow on 15 January 2011.
Glasgow Sheriff Court heard he called his family as the chef lay dying, but did not contact the emergency services.
Afzal was given 300 hours community service and a 12-month driving ban.
He must re-sit a test at the end of that period.
The court was told that the fatal collision happened on Paisley Road West at about 22:00 as Afzal was driving home after completing a 12-hour shift at his shop in Paisley.
Mr Roberts had been out socialising and had consumed an amount of alcohol that was equivalent to being almost four times the legal drink driving limit.
Fatal injuries
Another driver who witnessed the crash told how Mr Roberts began to cross the dual carriageway, then slowed down.
Afzal, who had passed his test three months earlier, later claimed that he had not noticed Mr Roberts because he was wearing dark clothing.
His Audi struck the pedestrian, knocking him to the ground.
The 40-year-old chef hit his head on the road and died from a fractured skull and bleeding on the brain.
Afzal claimed in evidence that he had flagged down a car and asked the driver to call an ambulance.
Witnesses at the scene, however, said that Afzal told them he had not phoned an ambulance and said he then added: "I don't want to use up credit on my phone."
Depute fiscal Natalie Henderson, prosecuting, said: "The accused's first thought was for himself. He phoned his family to come to his aid and did not get an ambulance for Mr Roberts.
"He said he didn't want to use up credit on his phone. Everyone knows that calls to 999 are free."
Below standard
Referring to the lead-up to the collision, she added: "Mr Afzal was not keeping a proper lookout. He was not paying attention.
"Mr Roberts had a lot to drink that night. There's nothing wrong with that. There is no crime in that. There was no suggestion from witnesses that he was staggering along the road. He was simply crossing the road when he was hit.
"Mr Afzal's actions that night were not those of a careful, considerate driver."
Passing sentence, Sheriff John Beckett QC told Afzal he was driving below the standard expected of a capable driver.
The sheriff said Mr Roberts' wife had "lost her life partner".
He added: "There's no sentence I can pass that will have any impact on their loss and grief, and the fact you caused death is a fact I must take into account."