Funds approved for Barras and Calton regeneration plan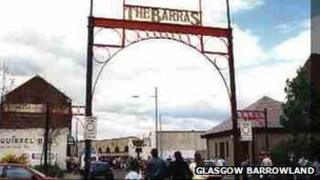 Funding has been agreed for the first phase of a multi-million pound scheme to regenerate the Calton area of Glasgow and its historic Barras market.
Glasgow City Council has given £3.5m for a five-year action plan which will kick-start the 15-year development.
The initial funding is expected to be supplemented by £2.8m from sources out with the authority.
The regeneration scheme aims to bring vacant land in the Calton area back into use and overhaul key buildings.
Some improvements to the area, which will be a gateway to Commonwealth Games venues in the east end, could be in place by 2014.
The initial funding will pay for a board to be set up to co-ordinate the regeneration effort.
Investment need
This team will be charged with fully costing the development, drawing up an action plan and attracting funding from outside the council.
It is hoped the action plan will create 165 jobs during its delivery and an additional 60 jobs upon completion.
Bailie Liz Cameron, executive member for jobs and the economy at the council, said: "The Calton Barras action plan will deliver real change in an area that is in need of investment, and the council's approval of this funding marks another step along the way towards the regeneration of this historic part of Glasgow.
"The initial £3.5m of council funding will attract a further £2.8m from other sources, furthering the transformation of Calton and The Barras and attracting a significant number of jobs over the next five years and beyond.
"The formation of a group - made of local people and those with a stake in the area - to deliver the action plan is a very welcome move."